Winter 2023 Newsletter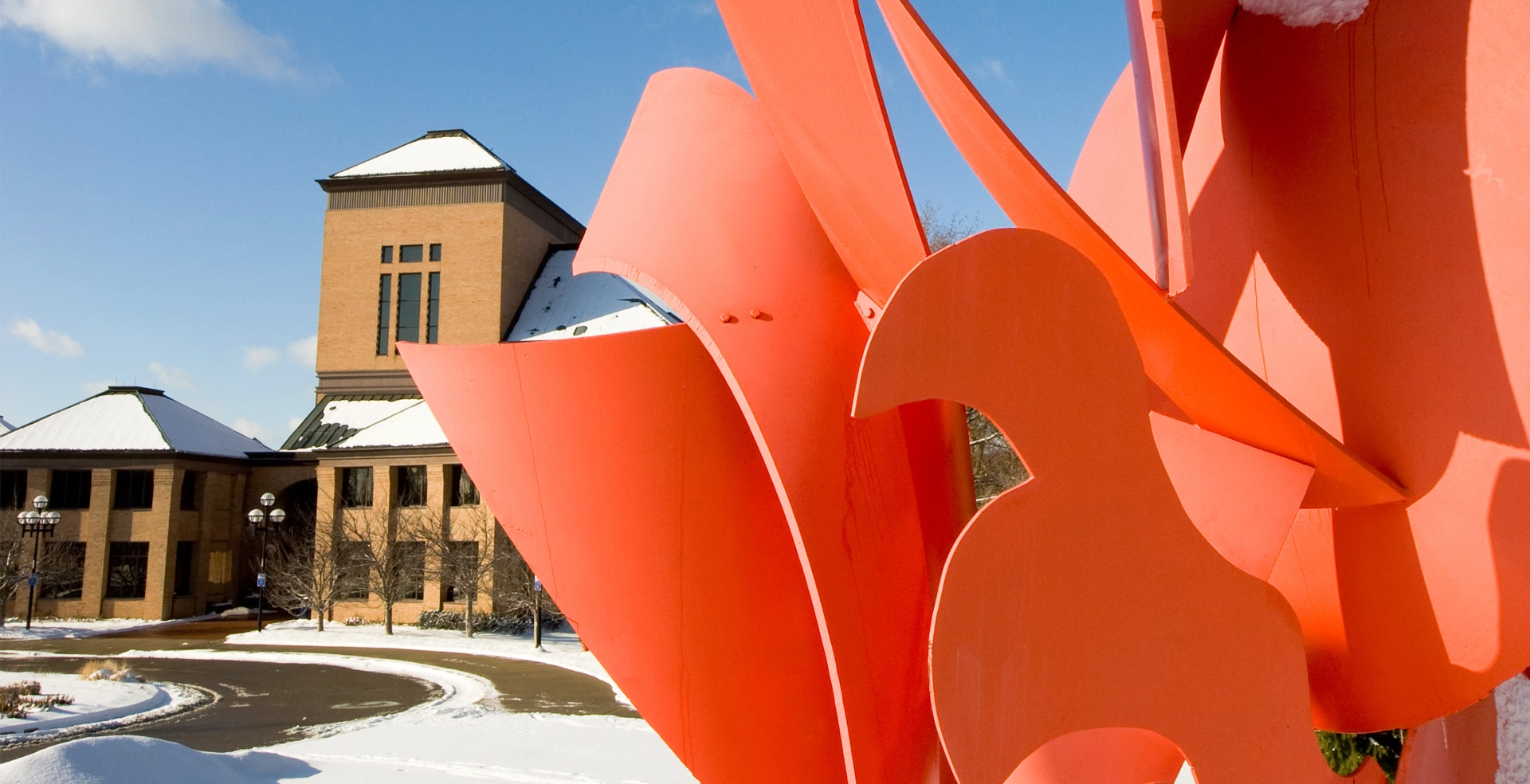 In this issue
---
Summer Programs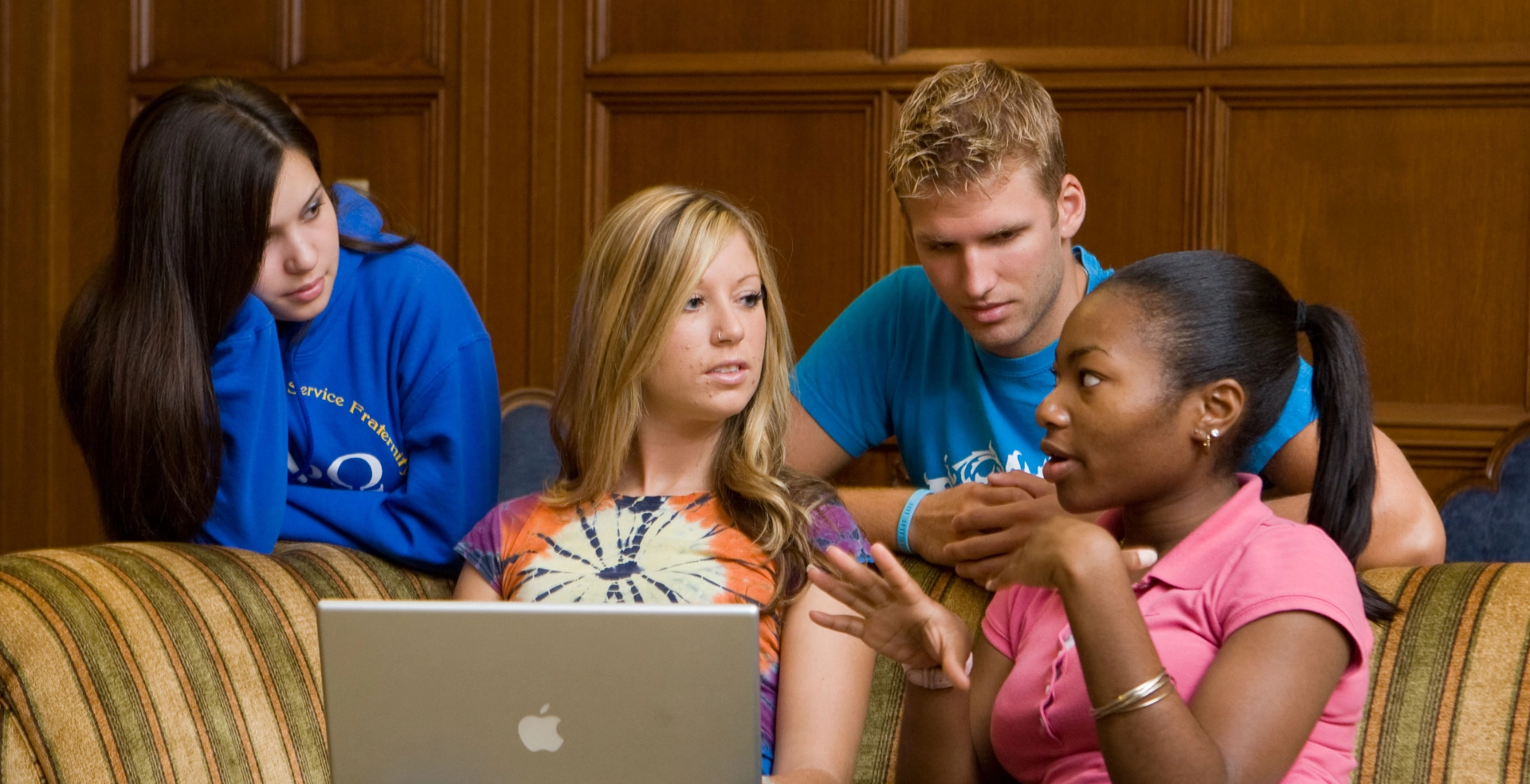 Each year CES partners with Michigan Housing and Michigan Dining to host summer programs at U-M. This summer, we're excited to be handling arrangements for over 160 groups who will join us on campus​​—from academic and athletic camps, research and graduate courses, leadership training activities, and more. Due to our campus affiliation, we are the only team who can arrange on-campus lodging in residence halls. And because of our years of experience, we're the natural choice to coordinate housing, meals, and many of the other details needed to host a summer event.
We'd love to assist with your summer needs, too! With our one-stop shop, your program is sure to run smoothly and be a success. Services provided through CES include:
Room reservations and other spaces to run your program
Transportation for small and large groups
Custom meal plans in one of the three on-campus dining halls
Lodging in on-campus residence halls or assistance with local hotel accommodations
Group outings to museums, restaurants, and other locations in Ann Arbor and beyond
There's still plenty of time to contact us and see how we can help.
---
Spring Commencement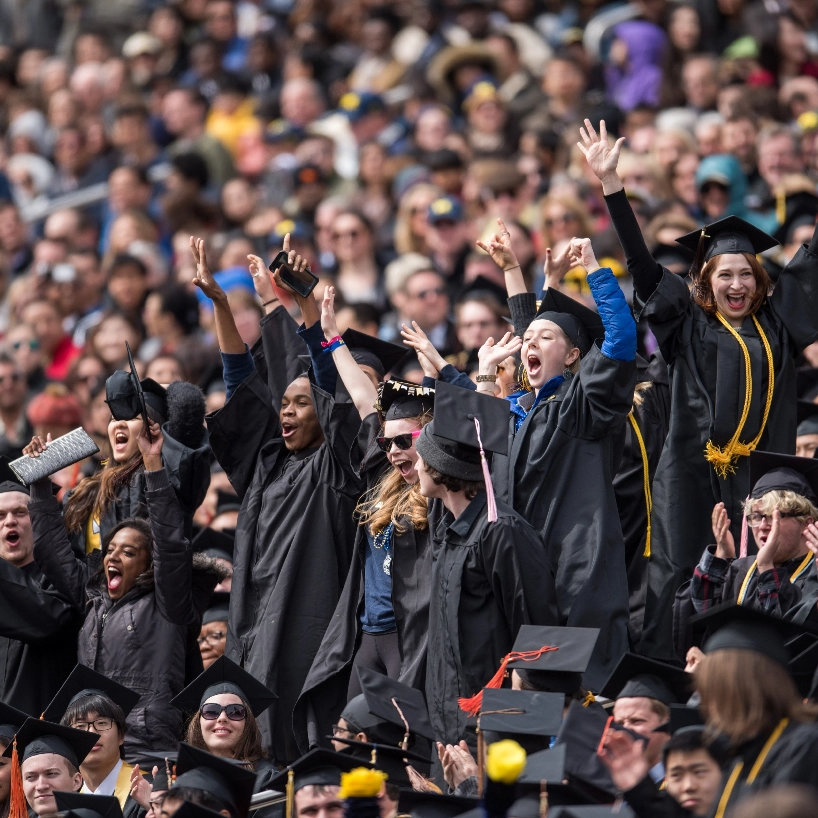 Interested in hosting a ceremony for graduates from your school or college? Have a group of student employees you'd like to honor? Commencement is an exciting time filled with so many reasons to celebrate, and CES is here to help! We can assist you with planning a menu, reserving a venue or outdoor canopy, securing permits, and much more. Contact us to start planning!
Save the Date: Spring Commencement is Saturday, April 29 at 10 a.m. at the Michigan Stadium. Doors open at 9 a.m., the graduation procession begins at 9:30 a.m., and immediately after the event we will be hosting our annual Commencement Brunch in the historic Michigan Union (Central Campus) and Pierpont Commons (North Campus). Tickets will be available for purchase early spring.
---
Myth vs. Fact
MYTH:
Event registration is simple! It doesn't involve much effort or time.
FACT:
Handling registration for an event is not as easy as it seems. It can actually be quite complicated depending on the size and type of event you're hosting. CES is here to help! We can customize your registration package by choosing the features that work best for you. So before you finalize your registration details, consider these factors to determine whether you'll need additional help.
Number of Attendees
Are you expecting 50 attendees or more? The greater the number of registrants, the more details you'll need to manage. Our team is equipped to create registration forms, send confirmations, track your registrants, and more. We'll also communicate with your potential attendees regarding things like registration and refunds.
Collecting Payments
Will you be charging a registration fee? Handling money for any type of event can be overwhelming and following U-M procedures can be complicated. CES is one of the only treasury-certified organizations on campus, which means we are approved to perform secure electronic transactions, including refunds or credits. We'll also provide you with payment summaries and a closing financial statement.
Onsite Registration
Are you hosting an in-person event? Coordinating onsite registration can include anything from preparing conference materials to handing out personalized name badges and greeting your attendees with a smile. Our team is skilled in customer service and is ready to help!
Contact us for more information or to share details about your upcoming event.
---
Diversity and Inclusion Events in Housing
CES is always looking for opportunities to team up with our partners and support campuswide goals! Earlier this academic year, we had the pleasure of working with Michigan Housing on various Multicultural Lounge events. Multicultural Lounges celebrate and promote diversity, equity, and inclusion by providing spaces where community members can participate in programs, study, and connect.
Last fall, open houses were held to mark the re-opening of the Edward Said Minority Lounge in North Quad, the Yuri Kochiyama Multicultural Lounge in South Quad, and the Abeng Minority Lounge in East Quad. Guests received tours of the renovated spaces, mingled, and enjoyed food and refreshments prepared by Michigan Catering. Also in South Quad, there was a celebration for the 50th anniversary of the Afro-American Minority Lounge. And on February 8, a reception was held at the Nikki Giovanni Minority Lounge in Mosher Jordan to honor the distinguished poet and professor.
CES is assisting Housing Diversity and Inclusion with another event in early spring! On March 28, the Rosa Parks Minority Lounge and Diversity Peer Educators 50th Opening Reception will be held in Stockwell Hall. We are honored to continue supporting the important work of diversity, equity, and inclusion with our colleagues in Michigan Housing! Learn more about Multicultural Lounges at U-M.
---
Exciting Staff Updates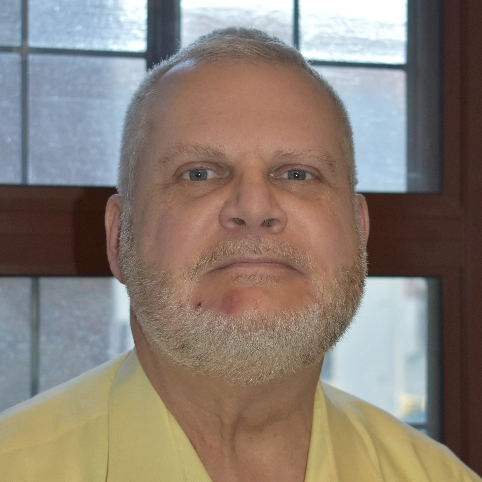 Leigh Evan Sweda joins Conference & Event Services with nearly 40 years of professional experience. Prior to joining CES as Event Manager, he served as Assistant Director of Development and Special Events Manager for the Pennsylvania Academy of the Fine Arts; and most recently, Event Manager at the Kimmel Center for the Performing Arts where he handled all logistical details for performances and special events. Leigh is a graduate of U-M with a degree in communication. When not at work, you can find him relaxing with his dogs, eating out, and reading about architecture and design.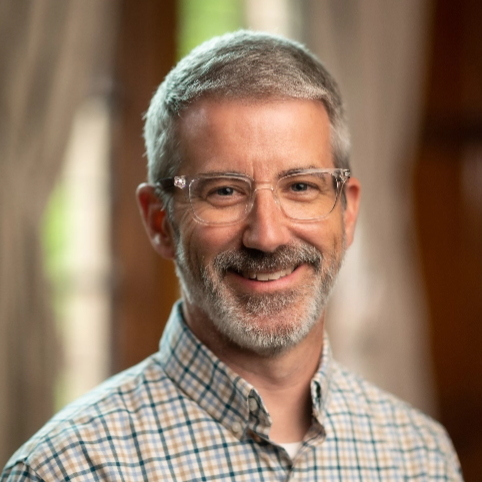 Mike Hill was recently promoted from Conference Manager to Assistant Director. Congratulations, Mike!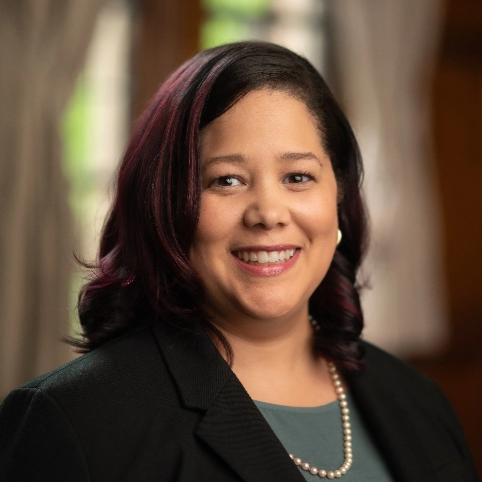 Caroline Clarkwas recently promoted to our full-time Conferences & Office Manager after serving in a similar temporary position. Congratulations, Caroline!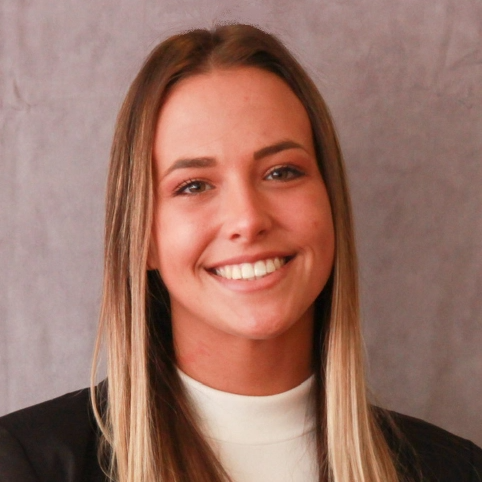 Kenzie Foster started out in the events industry as an intern for The High Five, a venue in Grand Rapids. She joins Conference & Event Services in the role of Meetings and Special Events Assistant and will handle all aspects of events such as venue planning, tours, inquiries, client and vendor relations, and more. Kenzie obtained a degree in hospitality administration from Central Michigan University. When not at work, you can find her spending time with her twin dachshund puppies Sugar and Poppy, skiing, relaxing with friends and family, rollerblading, or spending a day on a boat. She currently resides in Swartz Creek.
In January, Lindsay Sorgenfrei started a position with Michigan Medicine after serving nearly 20 years with CES. We are grateful for all the hard work Lindsay put in to help execute thousands of events over the years. She will be missed. Congratulations and best of luck, Lindsay!
---
Fresh Ideas for Cooking at Home
Interested in trying new recipes? Looking to kick up your cooking skills a notch? Here are five ways to keep things fresh and fun in the kitchen, with some special tips from Michigan Catering.
Preparing food doesn't have to be a chore. Whether you're cooking for one or cooking for a group, keep things upbeat by turning on your favorite music or listening to a podcast while you cook.
Ever spiralize veggies or make your own pasta? How about cooking with a wok? Challenge yourself by trying out new kitchen gadgets or techniques.
Consider introducing new colors, flavors, and textures into your recipes. Not only will you come up with a variety of ideas, eating a colorful diet has significant health benefits. (Here's a roasted vegetable dish from Michigan Catering to get you started!)
Not feeling hungry enough for a meal? Consider fun finger foods like an easy antipasto board or bruschetta with pea puree. (Michigan Catering suggests frozen peas this time of year.)
Make every meal a special occasion! Get out your favorite dishes and enjoy a meal at the table (even when you're eating alone). But be sure to put your phone away, sit for a while, and savor every bite.
We hope these tips make eating and preparing food more enjoyable! And if you're looking for ideas for your next catered event, keep reading for some big catering news to help you plan.
---
Big Catering News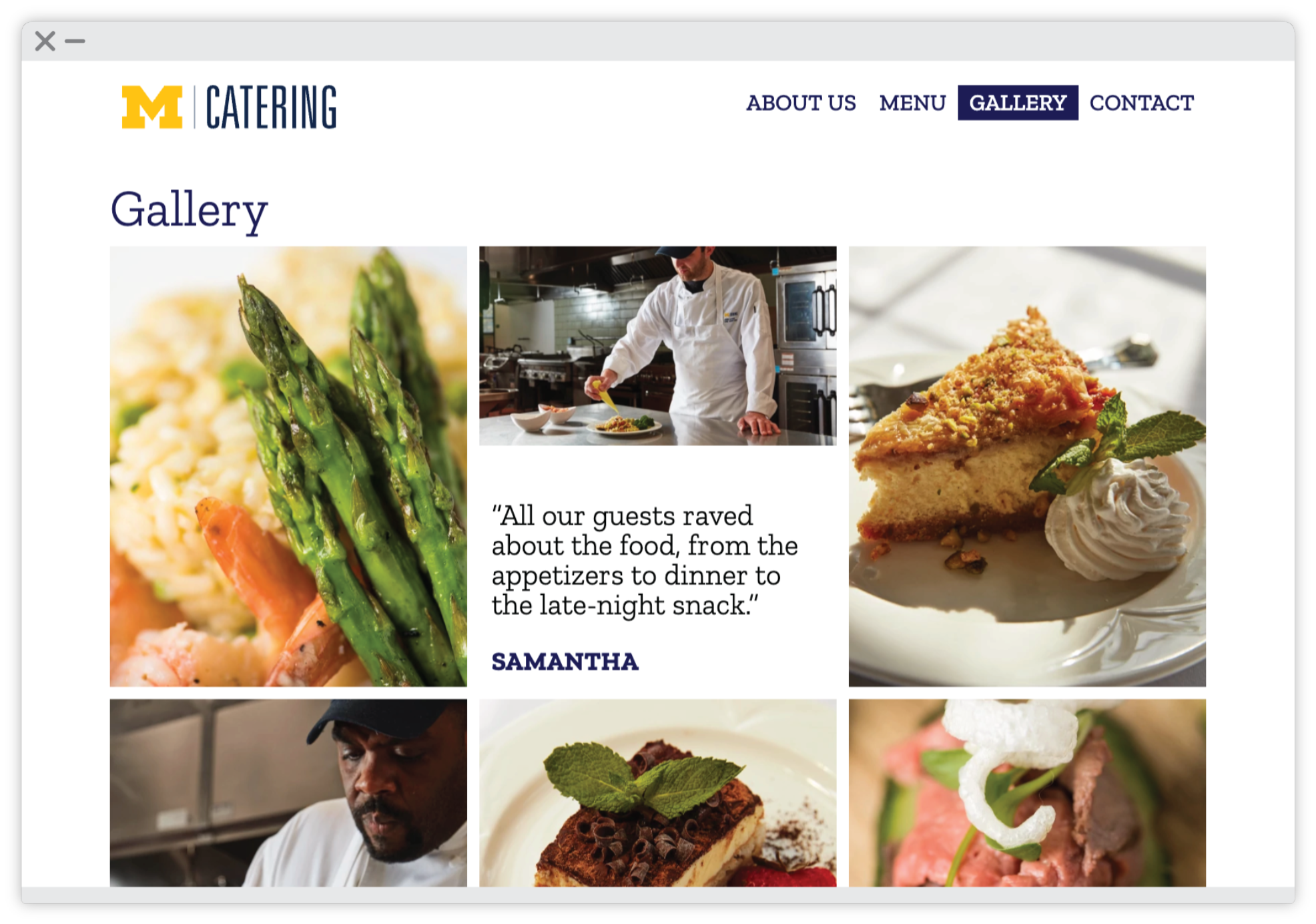 The new Michigan Catering website is live! Head over to check out the detailed menu and vibrant photo gallery. You can also read up on testimonials as well as fun tidbits shared by catering staff. It's been a long project in the making, and was made possible with the help of Michigan Catering and Student Life Communications, Marketing, and Design. We hope the interactive site provides you with a positive experience as you curate menus for your future events.
Fall Recap
Every event poses its own set of challenges and our team meets each one with efficiency and creativity. Take a look at the variety of events CES assisted with in fall 2022. (They may give you ideas for your upcoming events!)
Brain Cancer Symposium
U-M's BioInnovations in Brain Cancer Institute hosted the two-day inaugural Brain Cancer Symposium on September 30 and October 1. Scientists from multiple disciplines gathered in the Biomedical Science Research Building and Palmer Commons to support the development, diagnosis, and treatment of glioma.
CES worked with the Office of Research to plan and execute the event. We coordinated catering services, meeting spaces, audio and visual equipment, poster board rental and setup, and online registration and payment processing. We were also onsite during the event to make sure every detail ran seamlessly.
Nuclear Science Week
Nuclear Science Week is an internationally-recognized event. In October 2022, U-M's Nuclear Engineering & Radiological Sciences Department (NERS) hosted the week-long event in Rackham Hall. Over 100 attendees gathered in person to celebrate clean energy, environment and health, national security, and scientific discovery.
Our team provided registration services (online and in person); coordinated hotel reservations and sign production; and for catering, we partnered with a local off-site caterer, Katherine's Catering. A delicious lunch was served followed by an evening reception with bar service.
Diversity, Equity, and Inclusion Open House
On October 12, the Office of Diversity, Equity, and Inclusion hosted a student open house as part of the 2022 DEI Summit. Students gathered at the Rogel Ballroom in the Michigan Union for a 360 photo booth, a DJ, a performance by the student drumcore Groove, and prizes and giveaways. Student Life Vice President Martino Harmon was there, and students formed a long line to meet him.
CES partnered with Michigan Catering to provide a fun menu of carnival foods, including mini coney dogs, popcorn by the pound, and donut holes. A local vendor provided cotton candy favors for students to take home.
Interested in learning more about our event services and how we can help? Contact us!
---
Featured Recipe
Coconut Butternut Squash Soup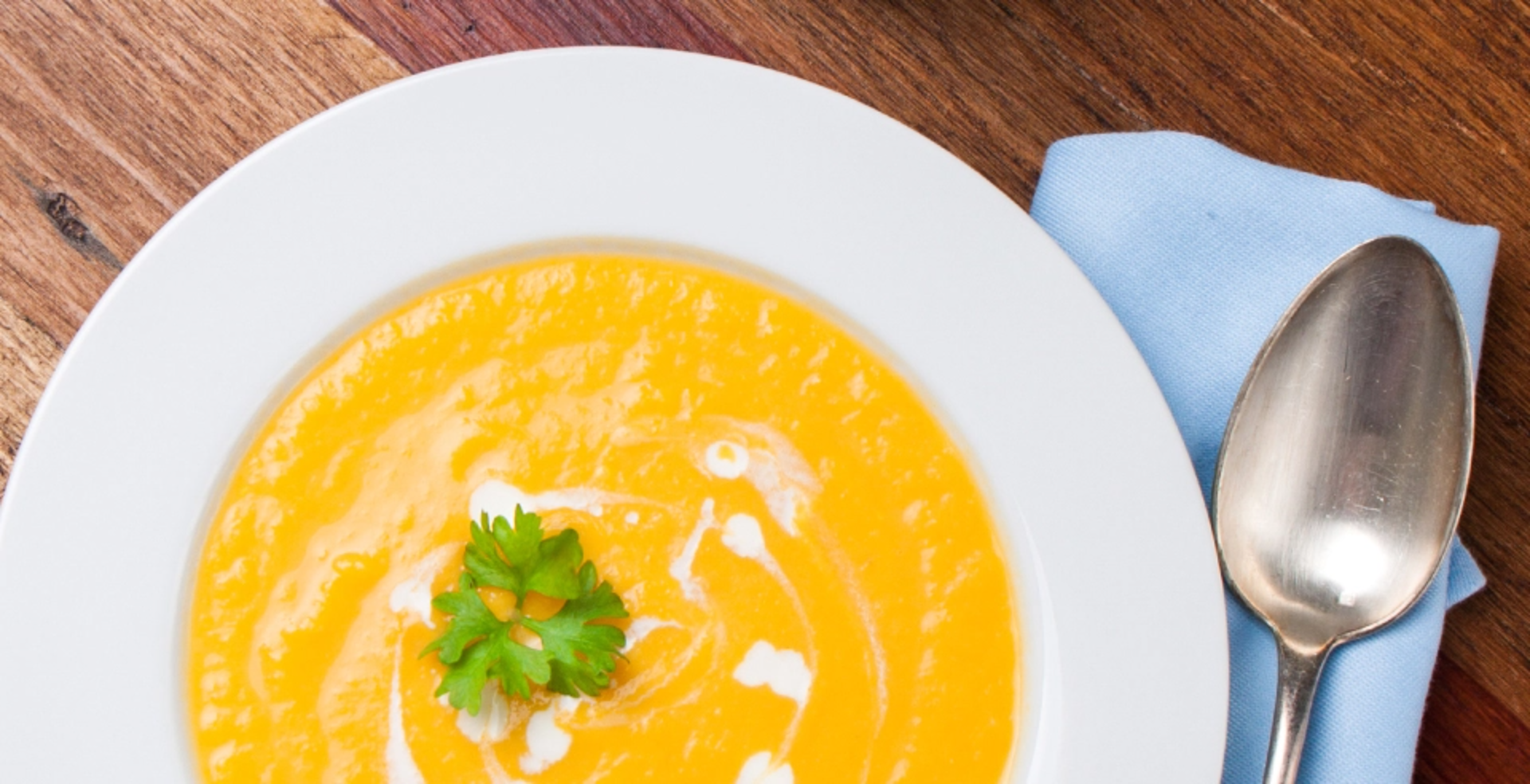 Nothing beats a warm, flavorful bowl of butternut squash soup! Our chefs at Michigan Catering have put a twist on the classic favorite. Paired with coconut milk, it offers a delicious combination of creamy, fresh flavors, and is perfect for a light lunch or course for dinner!
Yield: 6 servings
Prep time: 30 minutes
Ingredients
1 tablespoon canola oil
1 small butternut squash
½ cup water 2 cloves garlic, minced
1 small yellow onion, diced
1 tablespoon ginger root, minced
2 cups vegetable stock
1 teaspoon salt
½ teaspoon black pepper
¾ cup coconut milk
Directions
Preheat oven to 375 degrees F.
Cut the butternut squash in half and scoop out the seeds. Drizzle with oil and rub until completely coated. Place squash in a pan with water and roast in the oven for 15 minutes on each side. Remove from heat and allow to cool. Peel the skin of the butternut squash and dice into 1-inch cubes.
In a pot over medium-high heat, add a drizzle of oil. Add garlic, onions, ginger, salt, and pepper. Saute for 4-5 minutes, or until onions are soft and translucent.
Add squash and broth to the pot and bring to a low simmer. Cook until the squash is fork-tender.
Strain the soup, reserving the liquid. Puree the squash and veggies and slowly add the liquid back in until the soup has achieved the desired consistency. Add coconut milk for creaminess.
Serve in your favorite soup bowls and enjoy!
---
Want more great tips, tricks and inside information from Conference and Event Services? Visit our newsletter archive!