January 2017 Updates
Happy New Year from all of us at Conference & Event Services. We've packed this newsletter with ideas, tips, a delicious recipe and all our very best wishes for a successful and rewarding year. We look forward to working with you in 2017!
Featured Venue: Michigan Union Patio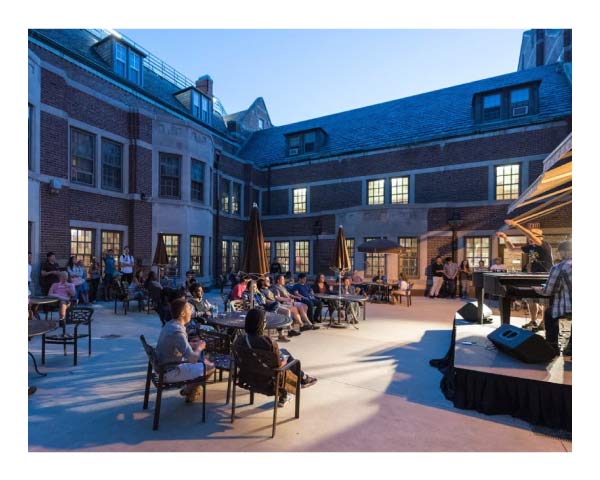 Looking for a unique setting for a spring, summer, or fall gathering? Consider the instant charm of the Michigan Union Patio. With its outdoor furniture and colorful planters, it offers a casual street-scene vibe. String a few lights and the stage is set for an evening of entertainment.
Winter Freebie!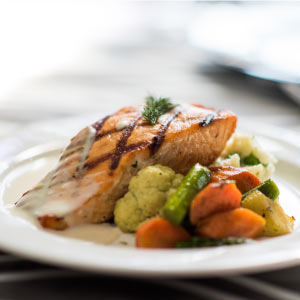 Planning a catered event for January or February in a non-Union facility? Order now and we'll waive the transportation fee from our kitchens to your venue. Just a small token of our thanks.
Quick Tip: Poster Boards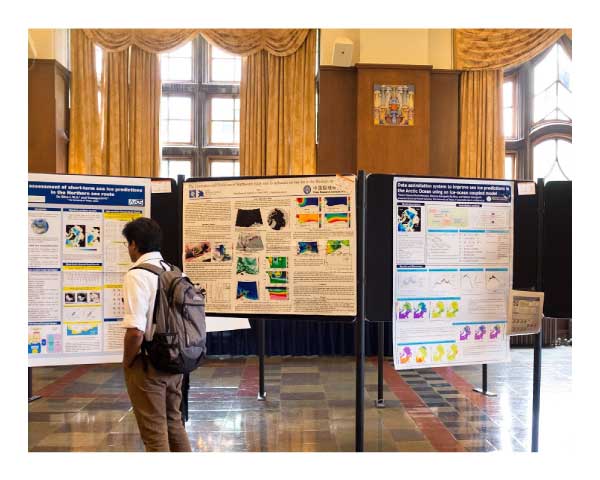 Poster boards are great for presenting research information, but are there other uses? Of course! Here are a few ideas:
Use them to hold enlarged photos or photo displays to honor a retiree.
Make a splash at an open house with oversized graphics.
Introduce your project team with a photo and credentials on each poster board.
Add an interesting graphic and use as an attention-grabbing backdrop for a registration table or a special event.
Create a temporary but high-impact wall of remembrances, accomplishments or goals.
Let your imagination run wild!
Each of our poster boards is self-supporting with a 3' × 4' double-sided display area. The rental fee for a case of six poster boards is just $120/day. (Nominal delivery and set-up fees may apply.)
Got a Minute?
Over the years, we've picked up all kinds of tips, tricks and how-to's on topics ranging from meeting planning to event management to conference budgets. And we'd like to share them with you. So tell us: What would you most like to hear about?
How to Handle Event Registration Like A Pro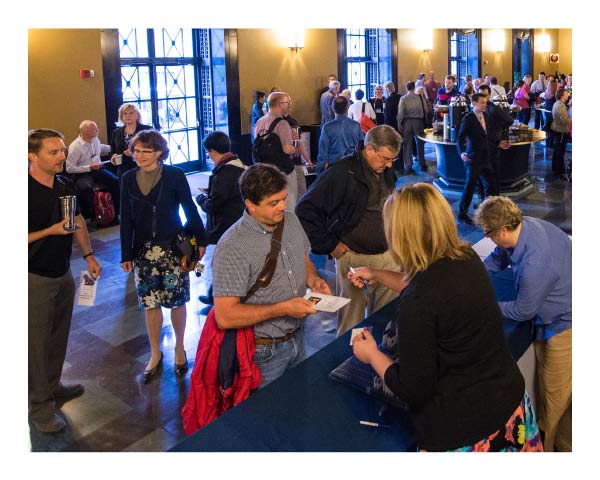 You're planning an event. An important event. With 50 to 1,000 participants expected. Here's how to develop a professional registration process that will be easy and intuitive for your attendees.
Identify all the information you'll need to collect from each registrant; for example, name, title, organization, address, phone, email, etc.
Define and describe all the registration options you'll offer, such as full conference vs. day-by-day attendance, special meals and optional excursions. Decide on the rates for each option.
Think about the best methods of payment for your event and if/how you can manage each one securely.
Decide on your cancellation, change or no-show policies and fees.
Create an online registration page that presents and collects all of this information.
Consider how you will collect registration information from non-paying participants (guests and speakers, for example).
Prepare your staff to answer inquiries quickly, confidently and efficiently, from the time registration opens until the day the conference closes.
Identify your reporting needs, build the data collection tool and create the reports.
Create name badges, purchase lanyards and host the registration table.
If you are wondering how you will do all this in addition to managing your conference planning responsibilities you are not alone. For more than 20 years, the registration function for hundreds of U-M events has been successfully, seamlessly and professionally managed by Conference & Event Services. In fact, we register more than 9,000 attendees in an average year.
Find out how we can take care of all your registration needs for a surprisingly nominal fee.
Congrats, Nancy!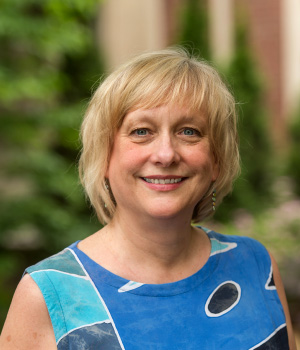 Nancy Harper has earned the designation of Certified Tourism Ambassador (CTA) from the Ann Arbor Area and Ypsilanti Area Convention and Visitor's Bureaus. The training and certification program provides hospitality and tourism professionals with first-hand experience in Washtenaw County's many attractions so they can provide visitors with informed and personalized recommendations. Nancy is looking forward to putting her new expertise to work for you!
Cider-Glazed Pork Chops with Roasted Apples and Spaetzel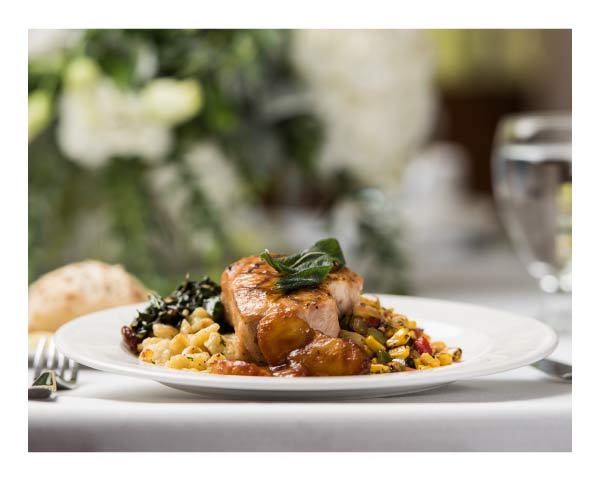 This special occasion dish was recently featured in Food Service Director magazine. Created by Eric Mughannem, Chef de Cuisine with Michigan Catering, it's just right for a fall or winter event and offers a delicious change of pace from the usual beef or chicken. It's perfect for your next catered event!
Ingredients
Brine
2 cups water
1/4 cup kosher salt
1/8 cup brown sugar
1 tbsp. chili flakes
1 tsp. vanilla extract
2 cups ice
Pork chops
4 pork chops (6 – 7 oz. each)
2 apples, peeled and cut into large dice
1 tbsp. vegetable oil
1 tsp. kosher salt
1/8 tsp. cracked black pepper
2 cups apple cider
2 tbsp. butter, cubed
8 sage leaves, fried
Spaetzle
1 cup all-purpose flour
1 tsp. salt
1/2 tsp. ground pepper
1/2 tsp. ground nutmeg
2 eggs
1/4 cup milk
3 tbsp. unsalted butter
1 tbsp. grated lemon zest
2 tbsp. minced fresh chives and parsley
Steps
Pork Chops
Prepare brine: In small saucepan over medium-high heat, combine water, salt, sugar, chili and vanilla; bring to boil. Chill with ice.
Place pork in deep pan; pour brine over pork until meat is submerged. Refrigerate up to 6 hours or overnight.
Coat apples with oil, salt and pepper. Roast in 350°F oven until tender, about 45 minutes.
Meanwhile, place cider in small saucepan. Cook over medium-high heat until cider reduces and becomes syrupy. Stir in butter and set aside with roasted apples.
Remove pork from brine. Preheat oven to 350°F. Place chops on grill to create cross hatching; finish cooking in oven until internal temperature reaches 135°F. Let stand to rest.
To serve, spoon glaze over pork and surround with and top with apples. Garnish with fried sage leaves.
Spaetzle
In a large bowl, combine flour, salt, pepper, and nutmeg. In another mixing bowl, whisk eggs and milk together. Pour wet ingredients into dry and fold together with your hands until it draws in the flour from the sides and is combined well; the dough should be smooth and thick. Let dough rest for 10 to 15 minutes.
In large pot, bring salted water to a boil; reduce heat to a simmer. To make spaetzle, hold a large holed colander or perforated pan over simmering water; push dough through holes with a spatula or spoon. Cook 3 to 4 minutes or until spaetzle floats to the surface; stir to prevent sticking.
Drain spaetzle in a colander and shock in ice water to prevent cooking further.
Melt butter in large skillet over medium heat. Add the spaetzle, tossing to coat. Cook spaetzle for 1 to 2 minutes until noodles turn light golden.
Season with salt and pepper, lemon zest and herbs.
Makes 4 servings.