Make your menu memorable.
Our catering specialists can recommend an unforgettable menu for virtually any price range. Or tell us what you're celebrating and we'll work with our chefs to come up with something deliciously creative. View the catering menu
Special Winter Menu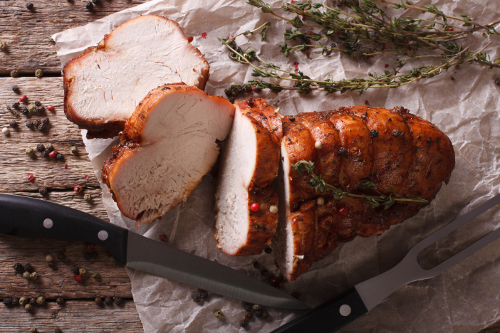 When the weather grows cold, warm and hearty meals become especially satisfying. That's why M|Catering has developed a special holiday-inspired menu. It's our way of spreading joy and keeping the season full of flavor. Just choose two entrees and two sides for just $20.00 per person. Warm rolls, crispy garden salad, a decadent dessert and a choice of beverages are also included. The menu is available with bookings in the Michigan League, Pierpont Commons, Palmer Commons and any offsite catered location.
Appetizers
rolls
garden salad with ranch and balsamic dressing
Entrees
roast turkey
pecan chicken 
gemelli pasta with tomato and mozzarella 
Sides
green bean casserole
almond and cranberry stuffed acorn squash 
smashed sweet potato
garlic mashed potatoes
stuffing 
Dessert
chocolate and dulce de leche yule logs
Beverages
Make it a zero-waste event.
Yours can be a zero-waste event for zero or little additional cost. When you submit your Catering Inquiry, simply indicate your interest and we'll do the rest. Easy!