Summer 2023 Newsletter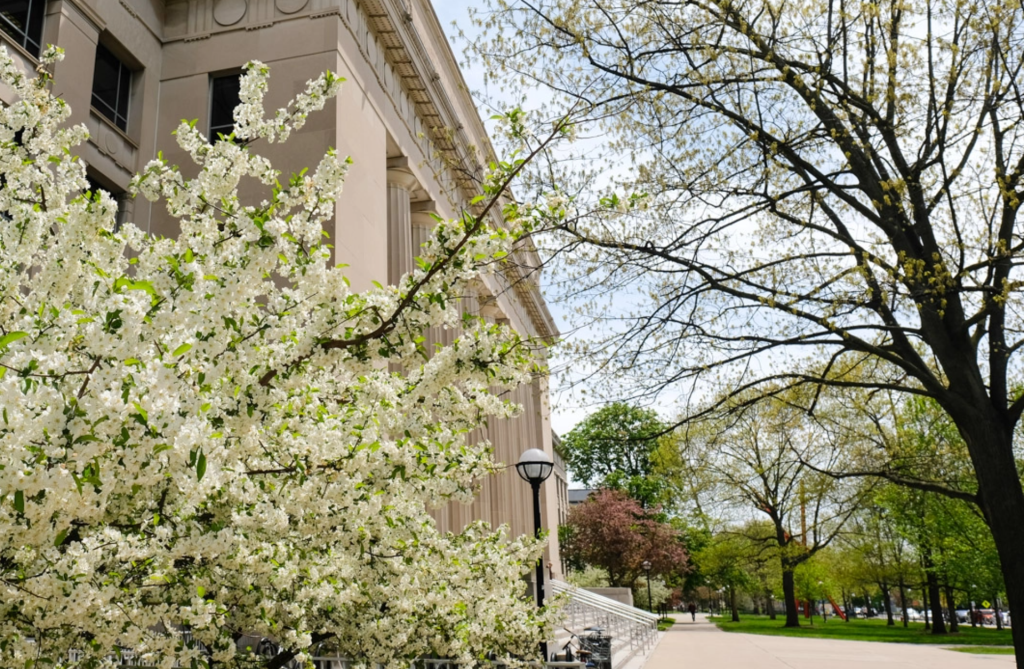 In This Issue
CES in Action: Winter & Spring Recap
In recent months, the university has had so many reasons to celebrate—from spring commencement to the presidential inauguration and more. See how our team worked diligently to make each event a success.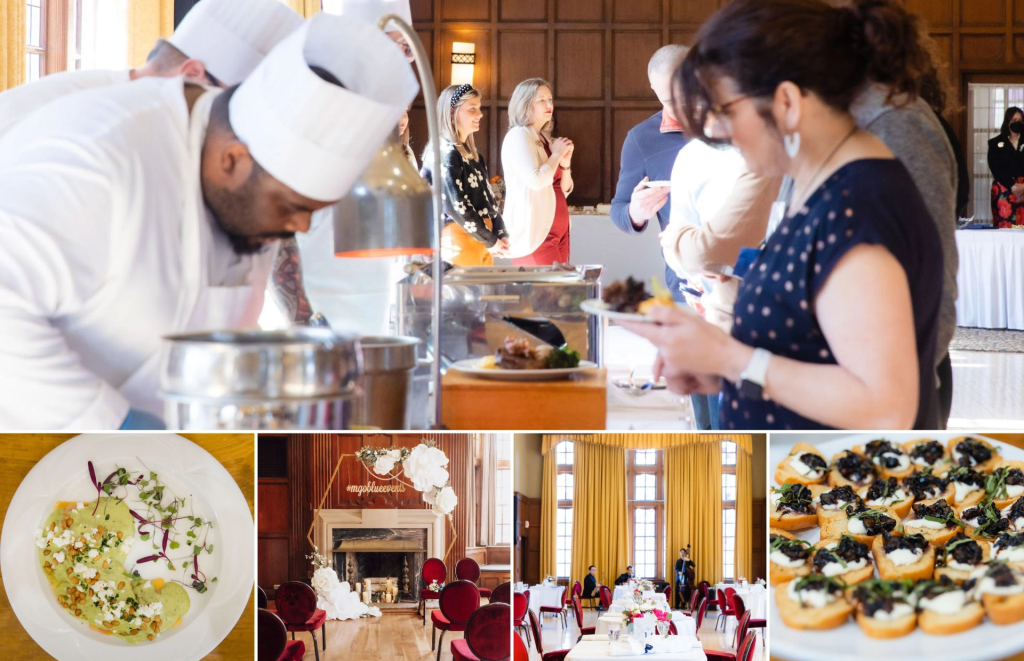 Wedding Tasting Showcase
In late February, CES partnered with Michigan Catering to host the annual Wedding Tasting Showcase. Couples, along with their families and friends, gathered at the Michigan League to enjoy the featured tasting and meet with vendors to prepare for their special day.
The tasting featured a variety of entrees, hors d'oeuvres, and late night snack foods. Entrees included sea bass, scallops, lamb, and vegan options. There was also a cash bar featuring signature cocktails and Michigan beers and wines.
Fifteen vendors were onsite, from transportation and rental companies to makeup artists and event planners, to provide additional resources and ideas to our couples. Our team wanted to provide an extra fun experience, so we organized a scavenger hunt to help couples network with each vendor. All participants were entered to win prizes such as discounted rentals, a free bridal bouquet, and a complimentary wedding planning session.
Associate Director of Event Services, Ann-Marie Davis, was delighted to see the great turnout, and she was thrilled to spend time with some of the couples. One bride and groom, she learned, traveled from out-of-state to attend the event. "We flew all the way from Texas to be here, and it was absolutely worth it," they said.
Be on the lookout for highlights from our 2023 wedding season. If you're interested in learning how CES can assist with your wedding or special event, please contact us.
A special thanks to photographer Genevieve Devries for capturing the beautiful images from this year's event.
Spring Commencement
Commencement is one of the most exciting times of the year at U-M. And, it's one of the busiest times for our Event Services team. Every year, we look forward to planning commencement activities and making it a memorable occasion for all. This year, we helped plan over 250 events.
Graduates came together for the spring commencement ceremony on April 29. Following commencement, community members gathered in the historic Michigan Union to enjoy a delicious brunch prepared by Michigan Catering. This year's menu featured eggs, sausage, bacon, breakfast potatoes, and salmon. And, it wouldn't be a celebration without U-M's famous Block M cookies, which were baked with love by the talented team at Michigan Bakery. A commencement brunch was also held at Pierpont Commons on North Campus. Both events allowed graduates to join together in celebratory spirit and spend time with their families and friends.
Additionally, we helped eight academic units with their receptions by providing outdoor canopies, catering, and other support.
Congratulations to all of this year's spring graduates! We wish you the best on your new journey. And thank you for allowing the CES team to be part of your special day.
Conference on Sustainable Food Procurement by Institutions
In April, Michigan Dining and the U-M President's Advisory Committee on Labor Standards and Human Rights hosted the 2023 Conference on Sustainable Food Procurement by Institutions. This event brought together thought leaders from across the food service supply chain—food producers, large purchasers, directors of dining, head chefs, sustainability advocates, and certification organizations—to explore existing challenges and innovative solutions to promote more sustainable food systems.
The keynote and panel discussions took place at both the Michigan Union and Michigan League. Michigan Catering provided a delicious, low-carbon menu for breakfast, lunch, and dinner which featured carved Michigan turkey, paneer curry with sticky rice, and vegan chocolate coconut cream pie.
The President's Advisory Committee on Labor Standards and Human Rights is appointed by the president to provide advice concerning university policies and procedures to address labor issues in the production of U-M goods. The Committee includes students, faculty, and staff. We are thrilled to have helped facilitate this important event.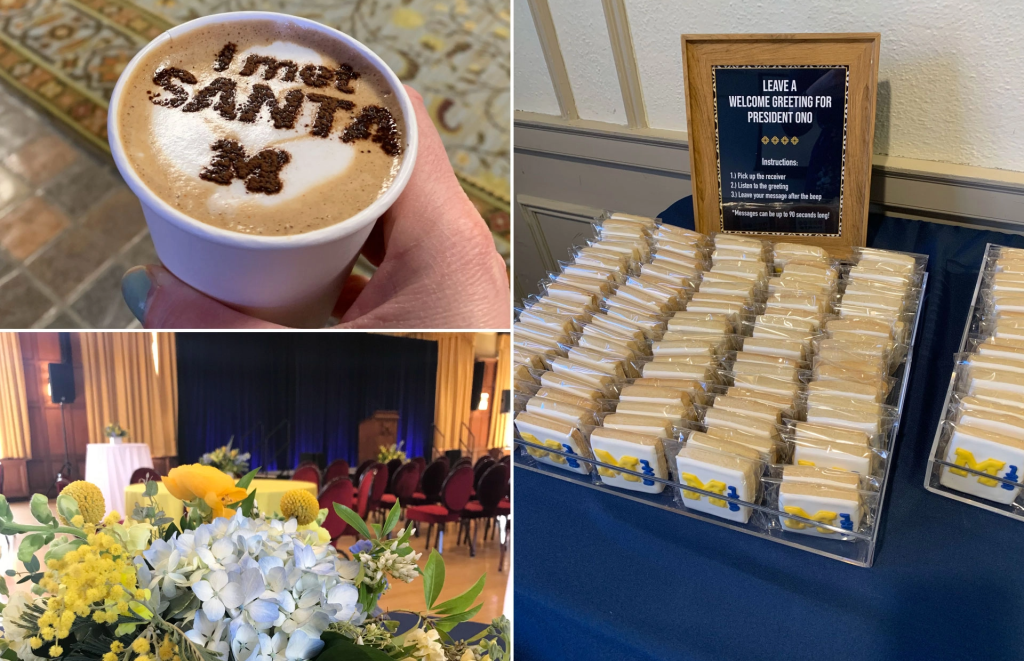 Presidential Inauguration
On March 7, over 2,500 community members gathered together for the inauguration of the 15th president of the University of Michigan, Santa J. Ono.
The special event commenced with an academic procession that started in Rackham Auditorium, wound through the Diag, and ended at Hill Auditorium, where President Ono participated in an inauguration ceremony. Guests then made their way to the Michigan League to enjoy entertainment by the Michigan Marching Band and U-M Dance Team, and they snacked on a fun assortment of finger foods like bags of popcorn and marshmallows. (The packaging was adorned with stamped images of a bow tie and glasses in honor of President Ono's signature look.)
"I was thrilled to see all of the details come together," said event manager for the celebration, Tonya Tuitman. "It was beautiful to see all of the guests in their academic regalia from schools across the country (and world). The security that went into this event was amazing. And, it was wonderful to see everyone have so much fun in the 360 photo booth."
Thank you to all who attended this special event. And welcome to Michigan, President Ono! Go Blue!
---
Myth vs Fact: Services Offered at CES
MYTH:
Conference and Event Services only handles events held at the Michigan Union, Michigan League, and Pierpont Commons.
FACT:
While we're happy to support events held at University Unions, we can also help plan and coordinate events held in almost any on-campus venue. Prefer something off campus? No problem! Whether you're looking in Ann Arbor or out of state, we'll come to you.
Don't forget, we can assist with almost any type of event you have in mind! From virtual meetings and in-person conferences to special events, student celebrations, and even seminars and retreats. If it brings people together, we can make it happen. Contact us to start planning!
Tips for Outdoor Photography

Summer is a great time for taking beautiful photos outside! But before you say "cheese," be sure to check out these tips and tricks.
Use the beautiful elements of nature as your backdrop. Not only will this enhance your pictures, you won't have to cart around heavy props or worry about setup. And, it's free!
Make your photos really pop by asking your subjects to wear brightly colored clothing (also, by avoiding black and neutral tones, they won't blend in with the backdrop).
Bright conditions can create challenges when the sun is directly overhead. Plan your shoot for later in the day when the light is softer and casts fewer shadows. If you're photographing an event during a set time, try shooting during the beginning, middle, and end to capture a variety of light conditions.
If light conditions are too intense, try placing your subjects beneath a shaded tree. Not only will they appreciate a break from the sun, it can create a nice shadow effect when rays of light peek through the leaves.
If you're photographing people, make sure to shoot at, or above, their eye level. Shooting from below can result in a less flattering photo.
Chat with your subjects as you photograph them. It will help them relax and feel more comfortable. And, you'll end up with more natural photographs that really capture your subject's personality.
Finally, do some research on your camera's tools and specifications. Whether you're using your phone or a hi-tech, professional camera and lens, understanding your tools can make all the difference.
We hope these tips have given you more confidence with taking pictures outside. Still looking for inspiration? Check out the gallery of photos on our website.
---
Five Ways Michigan Catering Serves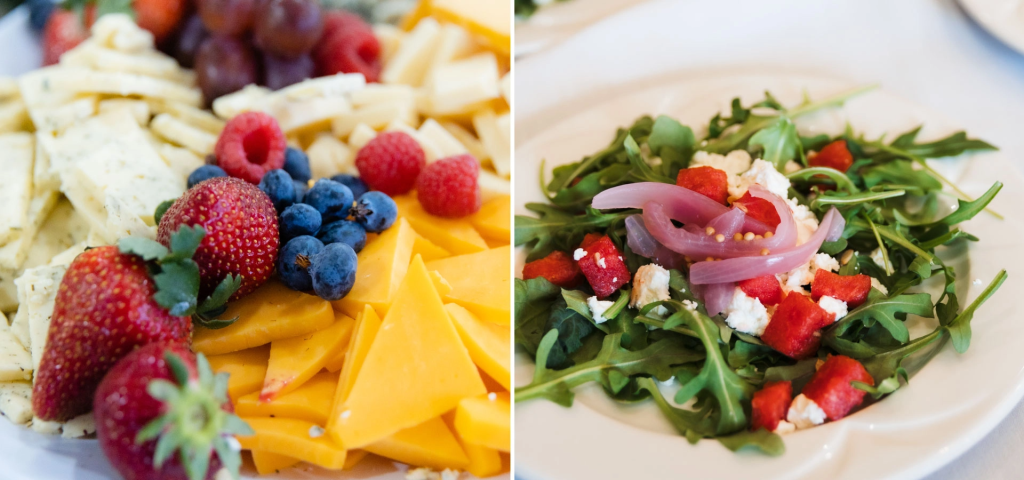 Bringing the Wolverine community together to fulfill missions and make memories is what CES is all about. But, we couldn't do any of it without the amazing help of our friends at Michigan Catering.
Here are five ways the Michigan Catering team will go above and beyond to serve you and your guests:
They care about every last detail. Not only do they want your event to be a success, they want it to be as perfect as possible. If this means bringing in a special ingredient or running out to get just the right flavor of ice cream, the team is ready and willing.
They care about excellent service. Michigan Catering chefs have over 40 years of experience creating mouth-watering menus. And every student server completes three days of intensive training where they learn the professional way to do things like set a table, serve an entree, refill water, and clear plates.
They care about your health. Many of the recipes feature fresh vegetables and wholesome grains. And their extensive menu has easy-to-understand allergen information, so you can plan a delicious meal that accommodates a variety of dietary needs.
They care about the university. Michigan Catering supports the university's dedication to diversity, local purchasing, health and wellness, and sustainable practices. If it's important to the university, it's important to their team.
They care about Student Life. When you choose Michigan Catering for your event, you're helping support scholarships, wellness services, inclusive programming, educational opportunities, and other benefits that serve Michigan students.
Want to learn more? Visit their website to check out appetizing photos, client testimonials, and an interactive menu to help you plan.
Visit the Michigan Catering site!
Spotlight: The Inn at the Michigan League
We all know conferences can be tiring! A typical conference schedule consists of keynote lectures, workshops, and social activities. This is why it's so important for attendees to have convenient and comfortable accommodations after a long, busy day.
The Inn at the Michigan League (featured in the New York Times and The Washington Post) offers a variety of room styles perfect for conference attendees, featured event speakers, and event staff. It's located right in the heart of U-M's Central Campus, so guests can enjoy the convenience of staying in the same building as your event (or, close nearby). And, if they're up for exploring Ann Arbor, they'll be within walking distance of the most popular downtown restaurants and shops.
Here are some additional benefits we love:
Guests can choose from 21 rooms: 12 Kings, 8 Doubles, and a Suite
One parking spot is included at no additional cost
They can enjoy a grab-and-go, continental style breakfast in the morning and a coffee and tea station throughout the day
Groups can book up to 15 rooms based on availability
Our university rate is available when paying with a university shortcode
Consider the Inn at the Michigan League when booking lodging for your next conference or event!
---
Welcome, new staff!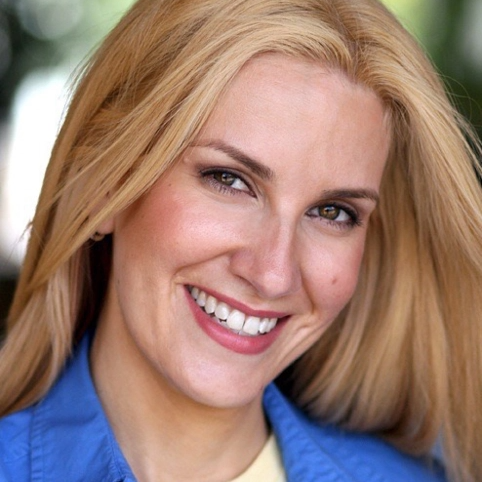 Heather Beitler joins Conference and Event Services with 20 years of experience in the hospitality and event planning industry. Prior to joining CES as Conference Manager, she served as a recreation and program manager, event specialist for John Paul Getty Center and Villa, and a craft cocktail bartender and assistant bar manager in Los Angeles. Heather obtained a bachelor's degree in English language and literature from the University of Michigan. When she's not at work, you can find her staying active, traveling, going to the gym, enjoying time outdoors, and spending quality time with her family and loved ones.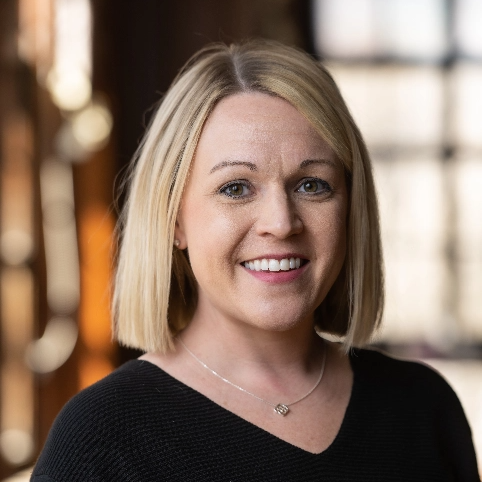 Kristen Fedewa brings 14 years of experience to her position as Assistant Director of Event Services. Prior to joining Conference & Event Services, Kristen was senior event manager for Gaylord Texan Resort and Convention Center and event manager for JW Marriott Chicago. She obtained a bachelor's degree from Grand Valley State University. When not at work, you can find her spending time with family, traveling, going to the beach, and enjoying time outside. Kristen currently resides in Brighton.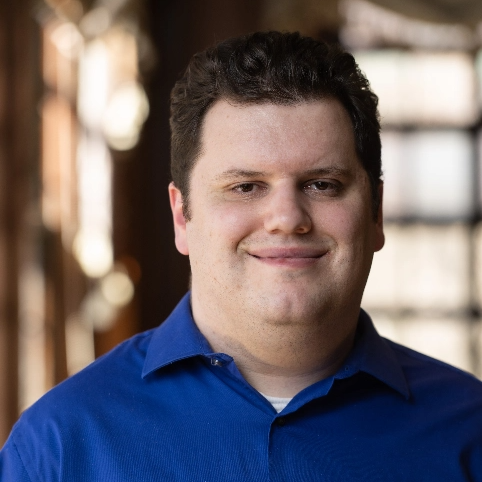 Frank Maue brings nine years of experience to his position as Conference Manager. Before joining the team he served as resident services coordinator for Case Western Reserve University, residence hall director at the University of South Dakota, and resident director at the University of Kentucky and Wilmington College. Wilmington College is also where Frank obtained a bachelor's degree in business administration. When he's not at work, Frank enjoys going to concerts, exercising, playing video games, watching college and professional sports, and trying local restaurants, breweries, and coffeehouses.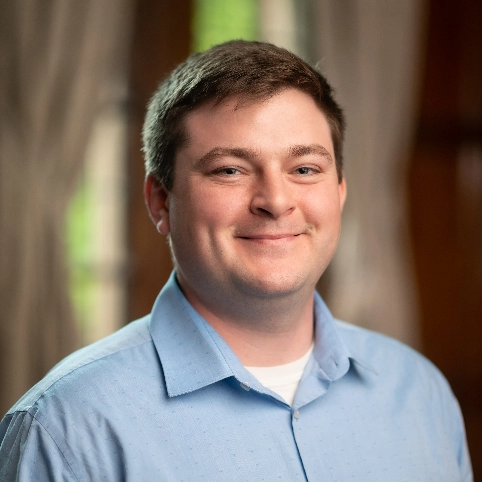 Bryce Montgomery was recently promoted to Event Manager after serving as meetings and special events assistant.
---
Featured Recipe
Chocolate Thumbprint Cookies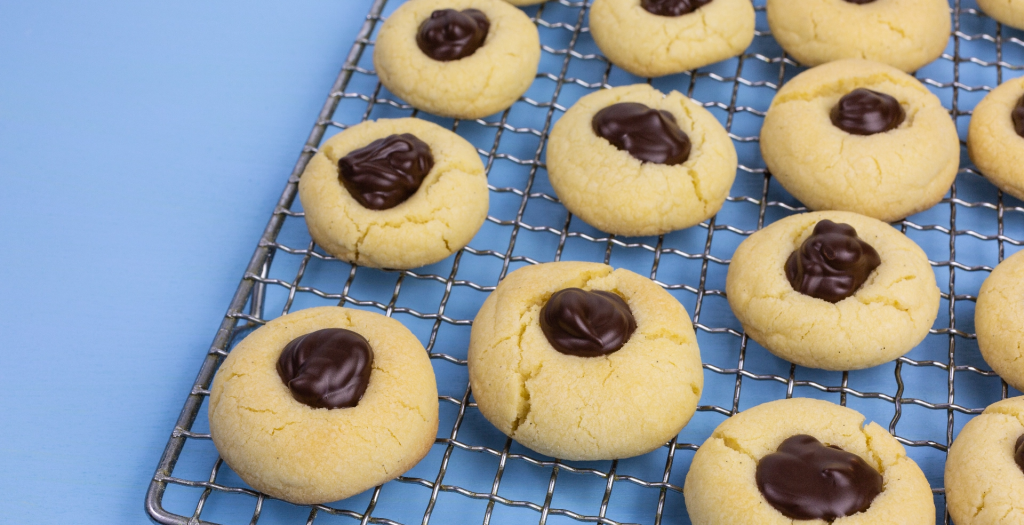 These cookies are rich, so chocolatey, and you can bake them in just under 30 minutes! Whip them up for an after-school treat or easy dessert. However you choose to serve them, we hope you enjoy these simple, irresistible cookies from our favorite chefs at Michigan Catering.
Yield: 24 Cookies
Prep time: 10-15 minutes
Bake time: 8-10 minutes
Ingredients
COOKIE
2 ½ cups all-purpose flour
1 ½ cups granulated sugar
2 teaspoons baking powder
½ teaspoon salt
¾ cup cocoa powder (not the dark one)
7 ounces coconut milk
½ tablespoon vanilla extract
6 ½ ounces coconut oil
1 cup sanding sugar for dipping before baking (do not use in dough)
CHOCOLATE BUTTERCREAM
4 ounces Earth Balance butter
½ cup cocoa powder
¼ cup karo syrup
1 pound powdered sugar
½ teaspoon vanilla extract
1 to 2 teaspoons almond milk (as needed)
Directions
Blend flour, baking powder, salt, and cocoa powder. Set aside.
In a separate bowl, mix the sugar, coconut milk, vanilla, and coconut oil.
Add flour mixture to the coconut milk mixture. Mix well and scoop into small balls.
Use your thumb to make an indentation and roll the cookie dough in sanding sugar.
Bake at 350 degrees for 8-10 minutes until done. Do not overbake.
While the cookies are baking, prepare the chocolate buttercream by blending the Earth Balance butter, cocoa powder, and karo syrup until smooth.
Add powdered sugar and blend. If the mixture is stiff, drizzle 1 to 2 teaspoons of almond milk until desired consistency is reached (be careful not to make it too thin).
Add vanilla and beat until creamy.
Allow to cool for 5 minutes, then pipe chocolate buttercream in the center of each cookie.
Serve on your favorite dessert platter and enjoy!
---
Want more great tips, tricks, and inside information from Conference and Event Services? Visit our newsletter archive!