Winter 2021 Newsletter


It's been said too often, but I think we can agree that 2020 was a challenging year. Throughout it all, everyone here at Conference & Event Services, Student Life and all across the university stepped up. Whether volunteering for furloughs, accepting redeployments, taking on new responsibilities, engaging in simple acts like donating blood, thanking frontline workers, or any number of other ways we served our students during this challenging year: U-M staff stepped up.
We have learned so much and have made great strides utilizing technology and transitioning to virtual events and conferences. Even so, many of us yearn to be gathering in person once again (myself included). Until then I remain inspired by the ingenuity, leadership, and humanity I see around campus during the fight against the pandemic.
Typically this newsletter updates our constituents on developments in conference and events, but I wanted to use this space to express gratitude for the extraordinary efforts made by all of you to help navigate this past year! So, on behalf of our whole team, thank you!

Elaine Hanke Director,
Conference & Event Services
Staff News: Barb Niemi!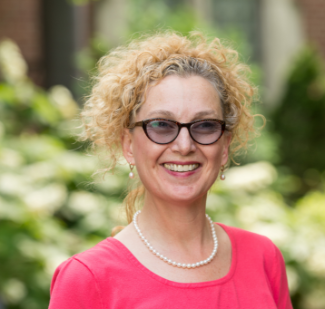 After 35 years of dedicated service at the University of Michigan, Barb Niemi of Conference & Event Services set off into retirement on February 2—which, coincidentally, is the same date as her first day at the university and her birthday! Needless to say, this monumental date and Barb's time at U-M have proven to be quite special.
Before coming to Conference & Event Services, Barb worked with Michigan Union Food Services and University Unions. Over the course of her 35-year tenure she held the following roles:
Food Service Assistant (Michigan Union Food Services)
Food Services Supervisor (Michigan Union Food Services)
Assistant Facilities Manager (University Unions)
Student Union Associate Director (University Unions)
Event Operations Director (University Unions)
Conference and Event Services Associate Director (Conference & Event Services)
The consummate team player, Barb has never been one to seek the spotlight—she always wanted recognition given to her entire team. Barb made an impact on the hundreds of individuals she worked with. She will be remembered for her tenaciousness, contagious laugh, steadfastness, mentorship, wisdom, integrity, and positive, joyful spirit. Barb brought historical knowledge and big picture ideas to so many projects and achievements, including these recent milestones:
Leading a committee tasked with identifying spaces and creative solutions for over 10,000 events during an 18-month renovation closure of the Michigan Union.
Developing new policies so student organizations could have fair access to limited spaces during the Michigan Union's renovation closure.
Working to make spaces within multiple campus buildings more available and affordable for student groups.
Barb will be greatly missed and her contributions to the university will never be forgotten. She plans to stay busy in retirement spending time with family (including her grandson), and traveling. On behalf of the Conference & Event Services team, the hundreds of people within the university that planned events with Barb, and the teams within Michigan Catering, University Unions and Student Life, please join us in wishing Barb the happiest and healthiest of retirements.
---
New Virtual Event Platform Secured by CES!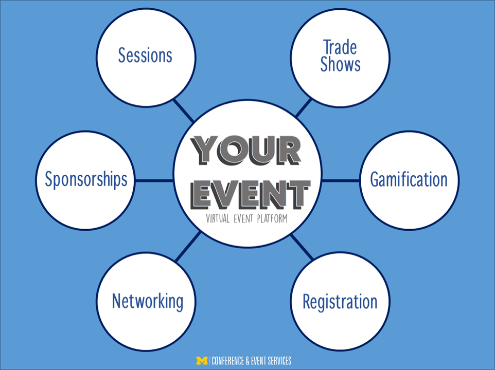 Zoom works great for simple meetings, but what if you're planning something more robust? Our new virtual event platform provides plenary and concurrent sessions, networking, virtual exhibitors, gamification engagement with your attendees and much more! Talk to us about how to turn your next event into a memorable experience. Here are some of the features our new platform offers:
Provides Speaker, Exhibitor, and Sponsor Support
A huge part of the platform is advanced event management: booth selection, call for abstracts, and private stakeholder portals are just the start.
Coordinates Virtual and Hybrid Events
From streaming and real-time video networking to gamification and exhibit booths, the virtual event platform can bring the on-site event experience to the virtual world.
Handles Registration
Working in connection with Iris (CES' registration system) we are able to be the turnkey solution for all your registration needs.
Offers Virtual Events Far Beyond Webinars
Step into the future with powerful and affordable virtual event solutions like live session streaming, virtual trade shows, and virtual networking.
Re-Imagines Event Apps (Hybrid Events)
The platform automatically generates your event app based on information that's already in the system so your app is ready in hours, not days.
Saves Time with Automation
The platform also takes care of repetitive emails and following up with speakers for their bios, and automates engagement with scheduled games and notifications during your event.
Uses Virtual Schedules to Enhance Engagement
From effortlessly running multi-track schedules to engaging attendees with real-time chat, our platform empowers you to engage hundreds or thousands of attendees instantly.
Delivers Real ROI To Exhibitors
Fundamental to any successful exhibit hall and trade show experience is the ability to have real-time awareness, face-to-face conversations, lead generation, and analytics.
Brings Virtual Attendees Together
Our virtual attendee networking tools go beyond basic text chat. Attendees experiencing our events meet face-to-face, with like-minded colleagues in real-time.
Want to take your online conference to the next level? Contact us to talk about how we can help.
---
People Are Talking!
Virtual Conference for the National Clinician Scholars Program
"Your services went above and beyond our expectations. Working with a new virtual platform like Hopin was not only new but challenging and at times unimaginable for us to wrap our heads around! You guys made it so simple and seamless.
Combining six sites across the country for a 2.5 day virtual seminar took a lot of coordination. Your attention to email detail and formatting for the platform was remarkable. We appreciated your creative approach to bringing our virtual conference to life. You guys are awesome. High fives!!!!"
Brittany W.
Program Coordinator
IHPI National Clinician Scholars Program
---

Facts & Snacks November Recap
In November, we held our second virtual Facts & Snacks event. Over 170 people attended as we covered two main topics: How to host a smaller event on a budget; and virtual events. Panelists included Tamara Rosinski from the Alumni Association; Ken Knell from LSA Development; and from Conference & Event Services, Jessica Weirauch, Kayla Marut and Kaitlyn Devergilio.
Thank you to all who attended. It's your participation that made this event such a great opportunity to learn and have fun.
Register for March Facts & Snacks
March 25, 2021
8:30 a.m. – 9:30 a.m.
Virtual presentation
At this Facts & Snacks we'll discuss best practices for virtual meetings, and ideas for planning hybrid events as gatherings become a safer option. Additionally, we'll share tips on hosting outdoor events on campus, with a special focus on attendee safety and food preparation and presentation.
---
Streaming Services

For many of us, the last year presented unexpected curveballs as we started adapting to a more virtual world. In order to meet public health guidelines due to the pandemic, CES was suddenly faced with the challenge: How to deliver the U-M Tax Seminar virtually.
First, we needed a filming space that would accommodate video production. The Wolverine Room at the Michigan Union provided access to high quality equipment and smart screens. Our seminars are offered multiple times between November through January and we were able to reserve this same space to deliver all of the sessions with ease.
Second, we wanted to make sure that the live stream would be the highest quality possible. With the help of Michigan Media and their team of creative video production experts, our instructor Jim Sullivan successfully delivered informative topics and engaged with live participants in real time.
Despite the fact that we've been hosting this tax seminar at a variety of in-person locations for over 30 years, we found a way to deliver the same great experience for our attendees—and we walked away confident that with the right space and equipment, anyone can take an in-person seminar and turn it into a flawless virtual event.
Need a space to go virtual? Feel free to contact us! We're here to assist with all the details and help you find the perfect space to stream your event.
---
Tips for Event Registration

Online registration is one of the first times you connect with attendees when planning an event. And first impressions matter. Have you ever considered ways to improve your registration process? Do you know if the email invite is being opened and, if so, by how many? Here are five tips to help you enhance the online registration for your event.
Design a multiple email campaign. Start by looking at how much time you have until your event date. This will help you determine how many emails should go out, and when they should be sent. Sometimes the best approach may be a two to three email campaign, including the actual invite, the reminder, and a final chance to register. If you decide to go this route, just remember to write a fresh subject line and new content for each one. Otherwise, they could be flagged as spam. And finally, don't send too many! It's about finding a balance and including the right amount of information so people will actually read the message. Bonus Tip #1: Use an "Early Bird Offer" as a way to create urgency and encourage people to register. In your subject line or within the email (or both), say something like: "Last chance for the early bird special!".
Create a custom landing page for the event. You might be wondering how to keep email messages simple while also delivering the important information registrants will need. A website landing page is a great way to highlight additional information without overwhelming readers within an email—and there are several ways you can go about it! Create a custom landing page on your website; create a Google Site that you can link to from your email invite; or use the Iris registration site created by CES for your specific event.
Don't stop there: Tell your story through multiple channels. One of the easiest ways to market a product or service is by connecting and engaging with individuals through in-person and online marketing channels. After you've developed your campaign message, share the key details on channels like: social media platforms (some of them even offer paid advertising); within a newsletter article; and, finally, look into paid advertising both in print and online. All of these options are simple, and sometimes, include zero costs!
Monitor the registration behavior and analytics. Once the first email has gone out, it's time to check behind-the-scenes! Marketing analytics can help track important details like conversion rates (how many people have opened your email or visited your site); click rates (how many have used the links within your email or clicked the "Register Now!" button); and finally, your number of attendees. Bonus Tip #2: Did you know Conference & Event Services can help with all of this? Our team of experts is equipped to handle any or all of your registration process, even monitoring these back-end details on your behalf.
Ask your guests to promote your event. One of the easiest ways to tell someone about an event is to have your guests do it for you. Whether they've attended before or this is their first time, encourage them to share details on social media. Or by word of mouth! Bonus Tip #3: Consider offering a tell-a-friend discount. It's a great incentive to share via email and social media.
There's no one way to go about handling registration for an event. In the end, it all comes back to the type of event you're hosting, how many attendees you're hoping to attract, and whether it's in-person or virtual. But these tips and tricks come in handy no matter what. We hope they're helpful for you as you handle registration for your event. And remember, we're always here to help with any part of that process.
---
Wedding Testimonial
I cannot recommend this venue highly enough. The staff did an incredible job navigating the evolving situation related to the pandemic. They were more than accommodating the entire way through, as our wedding plans continued to change. When we ultimately decided to change our venue to an outdoor setting, the staff could not have been more supportive. We received a full refund and they worked with us to still cater the event. I couldn't have asked for a better venue and hope to use them again for our next event.
Sarah
October 26, 2020
---
Featured Recipe
Butternut Squash Bisque with Spiced Crème Fraîche & Toasted Pumpkin Seeds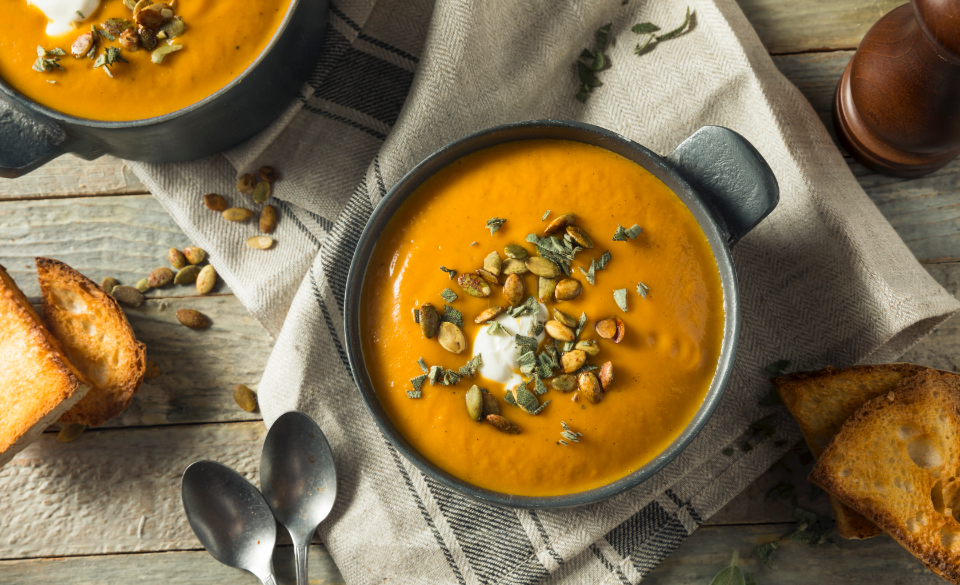 This delicious version of a classic bisque is perfect as a hearty cup of soup at lunch or as a first course before an elegant dinner. However you wish to savor it, you're sure to become a fan of the zingy, slightly spicy garnish of crème fraîche paired with the natural sweetness of the squash—and to finish it off, a little crunch from the toasted pumpkin seeds. Enjoy!
Servings: 4 bowls or 6 cups
Prep time: 30 minutes
Cook time: 30 – 45 minutes
Ingredients
3 tablespoons butter
1 medium onion, chopped
1 garlic clove, minced
½ teaspoon fresh thyme, minced
½ teaspoon ground cinnamon
1 tablespoon sea salt
1 butternut squash peeled and deseeded, cut into 1-inch cubes
3 cups chicken broth
1 tablespoon fresh lemon juice + zest of ½ lemon
¼ cup heavy cream
¼ cup white wine
3 tablespoons crème fraîche
1 teaspoon maple syrup
1 pinch cayenne pepper
1 pinch ground ginger
2 tablespoons toasted pumpkin seeds (salted is okay)
Melt the butter in a pot over medium low heat.
Add the onions and garlic and sauté for a couple of minutes, until translucent.
Add the butternut squash, half of the ground cinnamon, the ginger and sea salt. Stir until the cinnamon is activated and you can smell the spice. Add in the white wine and cook for an additional 2 minutes to reduce slightly.
Add in the chicken broth and heavy cream. Bring to a boil, then reduce to a simmer for about 30 minutes until the butternut squash is tender.
Once the squash is cooked through, puree the soup with a stick or stand-up blender. If you need to use a stand-up blender, return the pureed soup back to the pot once blended.
Add the fresh thyme and season with salt to taste.
If the soup is too thin, keep it on the stove over low heat and reduce, stirring occasionally. Once you've achieved your desired consistency (it should resemble a smooth, velvety texture), turn down the heat to low and reserve for service.
Add the lemon juice and zest, maple syrup, cayenne pepper, and the other half of the ground cinnamon. Mix until combined.
Serve the bisque hot in your favorite soup cups. Add a dollop of the spiced crème fraîche and a pinch of the toasted pumpkin seeds on top.
---
Want more great tips, tricks and inside information from Conference and Event Services? Visit our newsletter archive!