Spring 2017
What's on your mind right now? An al fresco brunch? Housing for summer camps or interns? Planning a rousing welcome week event? We invite you to take a leisurely scroll through these apropos ideas, tips… and a chance to win free coffee and pastries! Finally, don't miss this issue's tasty recipe from Michigan Catering.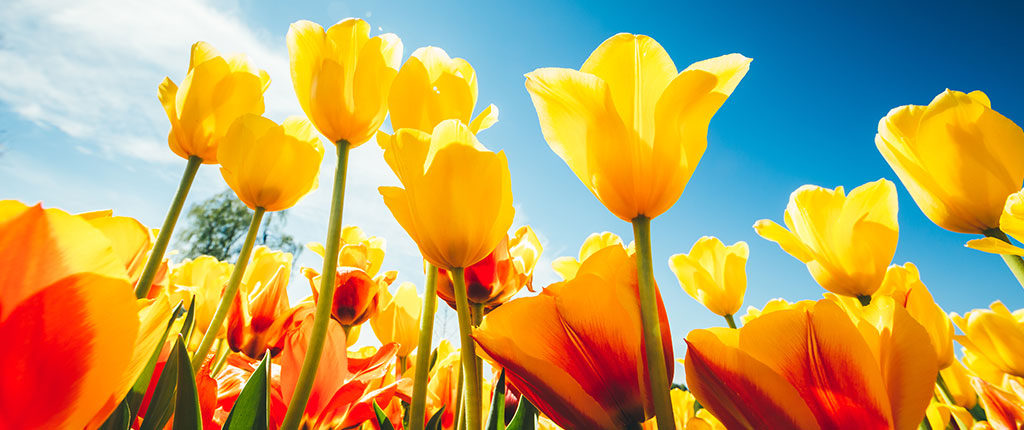 ---
Expert Tip: Summer Housing for Teens, Interns and Conference Guests

Conference visitors, interns and academic/sports campers keep our campus busy throughout the summer and each year, Michigan's residence halls open their doors to house them. If summer housing is on your agenda, here are a few good things to know.
Affordable: Rates for double rooms are as low as $28 per night.
Flexible: Accommodations are available for one guest or a thousand.
Secure: All buildings and rooms feature keycard access and are patrolled 24/7 by Housing Security.
Convenient: Guests enjoy easy access to campus and M buses.
Amenities: Cross-campus WiFi, in-hall laundry facilities and lounges are standard; air conditioning is available in some halls.
Friendly: Front desks are hosted by professional Conference & Event Services staff.
As part of your housing accommodations, meals can be arranged through Michigan Dining or Michigan Catering. We're talking picnics, BBQs, box lunches, short-term meal plans and full-service dinners.
Best of all, your housing and dining arrangements can be completed with a simple call to our expert summer event planners at (734) 764-2000.
Making your job a little easier. It's what we do.
---
People are talking.
"The presentation of the room, food and bar was superb. I especially appreciated having the technology person in the room and the smooth transition for our panelists. The event manager was excellent in taking care of my last-minute needs."
Robyn Nolan
Executive Secretary, Academic Affairs, Office of the Dean
College of Literature, Science, and the Arts
About the Event: The LSA Dean's Office holds an annual Promotion and Tenure Information Session for tenure-track faculty members, along with their Chair/Director and mentor(s).  The event includes a panel with the Dean of LSA, followed by a cocktail reception and networking.
It's never too early to start planning your special event. Talk to us!
---
New: Event Planning Feature

We've just added a new feature to our website: a task-by-task event planning calendar! Use it to keep your conference or big event on track. We're happy to step in at any point to lend a hand.
---
Think Inside the Box!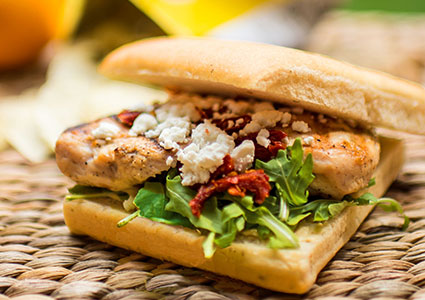 Ever considered a box lunch for your working meeting? For just $13.50/person, you can wow your guests with something like this: A grilled chicken sandwich with sun-dried tomatoes and roasted garlic hummus, feta cheese and fresh arugula on herbed focaccia, plus a side, a dessert and a beverage. For complete meeting planning and catering services, contact us!
---
Menu Know-How
Did you know that the M|Catering menu labels each item as gluten free, MHealthy, vegan or vegetarian? That their box lunches include complete nutritional information? That they now feature a vast selection of Michigan wines, craft beers and ciders? Or that even the most elegant affair can be a zero-waste event?
---
Hello!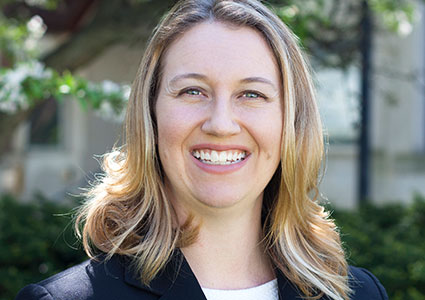 Please join us in welcoming Elaine Hanke, the new Director of Conference & Event Services. Elaine comes to us from the University of Nevada Las Vegas where she was the Associate Director, Student Union and Event Services. Her rich experience in managing campus events and conferences, ranges from US presidential visits to A-list concerts.
While at UNLV, Elaine served on the Presidential Debate Technical Committee for the final 2016 Presidential Debate, handling broadcast network media staging and contracts. She has experience working collaboratively with student organizations, community partners, departments and commercial groups. Prior to UNLV, Elaine worked at Cal State San Marcos and the University of San Diego.
Elaine's vision for Conference & Event Services is to establish a reputation for creating exceptional event experiences. "We want to provide the best Michigan experience possible." To that end, she invites you to contact her with your ideas, comments and feedback. You can reach Elaine at (734) 936-0379 or ehanke@umich.edu.
Elaine and her family are enjoying Ann Arbor, exploring their neighborhood and discovering new favorite spots. Outside of work, when her three-year-old son and her two Jack Russell terriers aren't keeping her busy, she enjoys reading historical fiction, traveling and visiting National Parks.
Tell us and win!
What's your favorite spot for hosting a campus event? Tell us by May 26 for a chance to win coffee and breakfast pastries for 12 at your next meeting at the Union, League or Pierpont Commons!
What Tastes Better than Spring?
Not a thing! That's why you'll looooooove the new spring menu from M|Catering.
Featured Venue: Pierpont Commons

Looking for a summer retreat? Look no further than Pierpont Commons. This North Campus gathering spot features multiple meeting rooms, catering service from Michigan Catering, great views, and even a luxurious Executive Suite. Just down the hall, the Fireside Café is happy to welcome your guests with reserved seating, their fabulous $10 lunches and convenient shortcode billing. The nearby Grove is a delightful spot for taking a nature break, or talk to us about hosting a catered luncheon there.
After holding the line on Pierpont's room rates for several years, an increase will take effect on July 1, 2017. To take advantage of the lower rates, book your event prior to July 1.
Summer Special
If you need a reason to try Pierpont Commons, this is it! This special is good from May 25 to August 25.
$35/person for groups of 12 to 16; $25/person for groups of 17 or more
Café to Go continental breakfast (muffins, bagels, juice, coffee, tea and water) with complimentary delivery
Lunch at Fireside Café
Café to Go afternoon break (vegetable platter with dip, cookies, brownies, coffee, soda, water) with complimentary delivery
Room rental (8:00 am to 5:00 pm), data projector, screen, laptop, flipchart and markers
Additional catering and equipment available à la carte
---
From the Kitchens of Michigan Catering: Wok-Sautéed Chicken in Mandarin Sauce
This recipe comes to you from the travel diary of Rahul Shrivastav, Director of Michigan Catering. "I discovered this recipe on a visit to Hong Kong. It's a Martin Yan recipe that a chef friend introduced me to. We prepared it together in his Indo-Chinese restaurant and it's been a favorite of mine ever since. You'll love the intricate flavors. And it's easy to prepare!"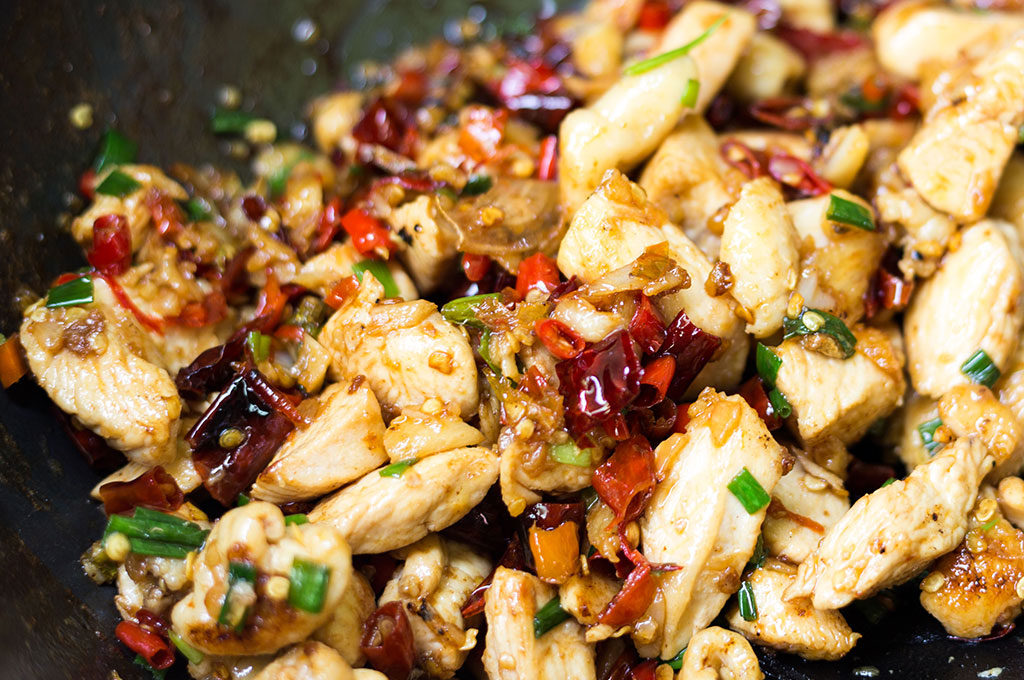 Ingredients
1 lb boneless skinless chicken thighs, cut into 1-inch pieces
Steamed rice
Marinade

2 Tbsp sherry wine
1 Tbsp dark soy sauce
2 tsp cornstarch

Sauce

2 Tbsp chicken broth
1 Tbsp rice vinegar
1 Tbsp regular soy sauce
2 tsp dark soy sauce
1 tsp sesame oil
1 tsp sugar

Wok mix

2 Tbsp cooking oil
8 dried red chilies
2 tsp minced garlic
1 tsp minced ginger
1 green onion cut into 1-inch pieces
¼ tsp crushed red pepper
¼ cup Thai basil leaves
1 tsp cornstarch dissolved in 2 tsp water
Instructions
Combine marinade ingredients in a medium bowl. Add chicken and stir to coat. Let it stand for 30 minutes.
Combine sauce ingredients in a small bowl.
Place a wok over high heat. (Test heat by sprinkling a few drops of water over the wok. If the water sizzles immediately, the wok is ready.) Add oil, then chilies. Stir fry chilies until dark red, about 10 seconds. Add chicken and stir fry for two minutes. Add garlic, ginger, green onion and crushed red pepper; stir fry for 1 minute. Add the sauce mix and basil; cook stirring for 1 minute. Add cornstarch solution and cook, stirring until sauce thickens and chicken is nicely glazed. Serve over steamed rice.
Serves 4.
Rahul's Tips
This recipe comes together quickly, so be sure to have all your ingredients wok-ready before you begin cooking.
Try adding curry spices to your wok mix for a different taste dimension.
---