Fall 2019

Welcome Autumn!
We love everything about fall at the University of Michigan: welcoming our students, tailgate parties, the harvest of local foods, glorious color, planning for seasonal celebrations…and helping you with your fall events, parties, seminars and gatherings.
In this issue
---
The Michigan Union Returns
Make Your Winter Reservations Now!
Hurrah! We are now taking reservations for Michigan Union meetings, events, parties, celebrations, weddings and more! Space reservations are open starting with January 15 events. This is a great time to look into the Union's new reservation policies!
The Michigan Union's renovation retains the building's historic charm while incorporating all-new, state-of-the-art technology and some amazing new spaces.
Take a tour of the Union's new facilities with this virtual tour.
The South Lounge (new), adjacent to the Willis Ward Lounge, is now a bright and inviting space that can be closed off for private events.
The Pond Room incorporates the old Tappan Room and is a more functional square space with two projection screens, a monitor, and a built-in sound system.
The Courtyard has been topped off with a stunning glass ceiling so it's a wonderful venue for year-round events. The space includes wood floors, a large projection screen, built-in sound system and plenty of floor outlets for virtually any kind of event. Seats 200 for a reception-style event.
The Wolverine Room (new) is a large space (1,774 square feet) on the Union's third floor. A welcome area just outside the entry is ideal for guest check-in and registration. And you'll love the window that overlooks the Union's ballroom.
New Michigan Union Reservation Policies
There are now all-inclusive rates for rooms with built-in audiovisual capabilities.
A/V equipment rental and setup is available for rooms without built-in capabilities.
Money Saver! Minimum room rental hours have been reduced from five hours to just three.
Reserve your Room Today!
To reserve your Michigan Union space, call us at 734-764-2000; send an email to conferences@umich.edu; or submit an inquiry.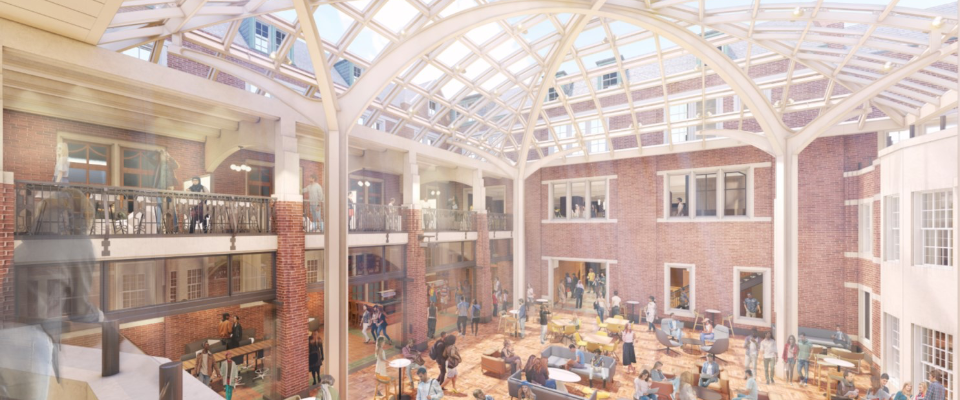 ---
People Are Talking!
An Anniversary Celebration at the Big House
"We are so pleased with the work Conference and Event Services did for our Five Year Anniversary event. The team was professional, organized and very knowledgeable about the venue, catering, parking and other logistics. We were able to enjoy the event and not worry about any of the details. Thank you for your ridiculously awesome customer service."
Pam Gabel
Executive Director
U-M Shared Services Center
CES provided all staffing for this event and coordinated transportation from Pioneer High School to the Stadium, and our event planner collaborated with the committee to provide a delicious menu from M|Catering. The celebration included food, games, entertainment, tours of the stadium and photo booths.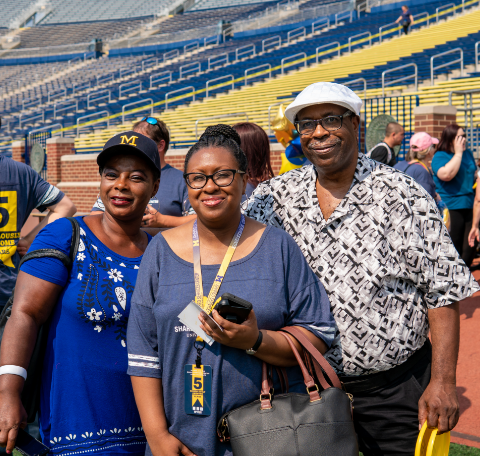 ---
Navigating Campus Event Policies
Interested in hosting a campus event? Need helping understanding and navigating U-M's policies? Whether it's a big event for hundreds or a small fête for big names, the Conference and Event Services staff has years of experience assisting groups like yours with planning, venues, coordination and logistics that meet U-M requirements. Let's talk!
---
Fabulous, Farm-Fresh Fall Sides from M|Catering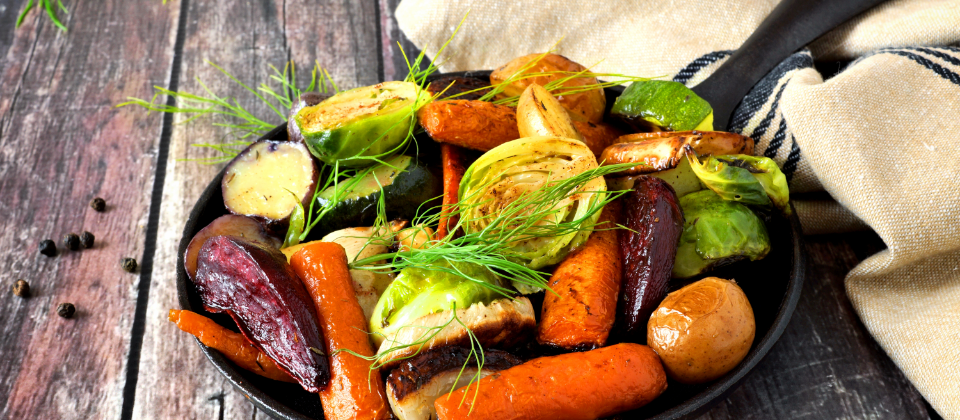 For this year's fall menu, M|Catering put special emphasis on side dishes so they could take full advantage of the fresh, local and bountiful harvest at area farms and especially at the two-acre Campus Farm at U-M's Botanical Gardens. Plus, food that is sourced locally cuts down on carbon emissions and is better for the planet. Executive Chef Russ Palmer is particularly excited about this side: Autumn Vegetables with Cranberries and Maple Butter. "This beautiful side dish captures the fall season in its entirety", he says. "It's going to be a big hit with the university community."
Here's an appetizing sample of what you'll find on the menu. Picture any two of these beauties next to your favorite hot entrée!
Roast maple-glazed parsnips
Lemon thyme grilled beets
Roasted local delicata squash with toasted sunflower seeds
Blistered farm tomatoes with parmesan cheese
Garlic-braised Napa cabbage
Herbed wild rice quinoa pilaf
Autumn vegetables with cranberries and Michigan maple butter
Swiss chard with spice roasted apples
For the complete list of new side dishes, see the M|Catering menu.
---
Self-Care for the Event Planner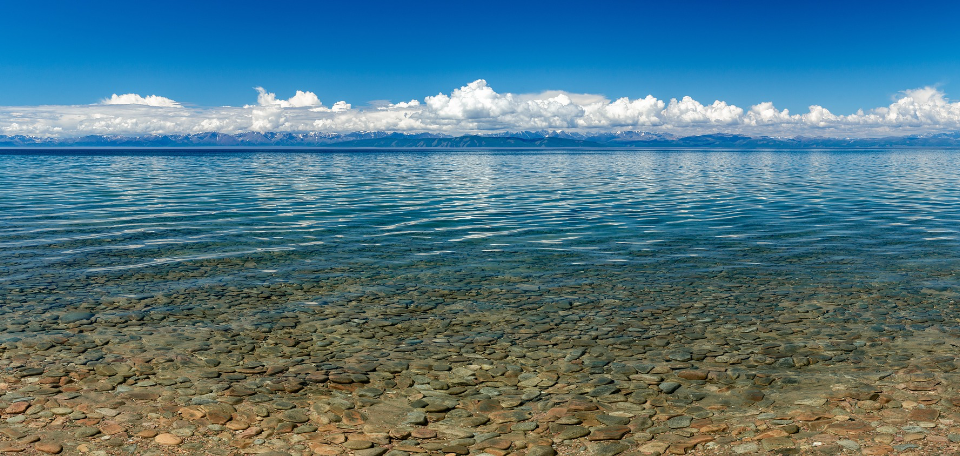 According to cnbc.com, event planners have one of the ten most stressful jobs. If you find yourself moving too fast and feeling too stressed, remember these tips from the event professionals in Conference & Event Services:
Stay Calm
You have to stay calm and take care of yourself in order to take the best care of your visitors and guests. Meditating — in a quiet place away from your desk — lets you clear your mind and gain some clarity. New to meditation? We like the Calm app, available at Apple and Android app stores. Or simply take five minutes to go quiet. Turn off the electronics, including your phone, and let your mind drift into silence. It's a great way to relax.
Make Time to Take Time
When your list of things to do is as long as your arm, you may think you can't take the time to care for yourself. But if you make the time, you'll find you are better prepared to tackle whatever comes your way.
Eat Smart
When you're running on empty, stop and think before heading to the vending machine. Junk foods like chocolate bars or potato chips, actually steal your energy when you need it most. Instead, keep a stash of healthy snacks on hand. Fruits and nuts are good choices. Or sip on a soothing cup of green tea. When you're on the go, choose a yogurt parfait or a Caesar salad with low-fat dressing from a nearby U-M café.
Fire Up
Exercise is the best way to release tension, so walk it off, do some yoga or take a fitness class. Physical activity produces endorphins, the chemicals in your brain that improve your ability to sleep.
---
RECAP: Facts & Snacks August

August Facts & Snacks Was A Hit!
August 2019 Facts & Snacks
Postma Family Clubhouse, U-M Golf Course
It was a beautiful day for breakfast, courtesy of Michigan Catering, with a to-die-for view of the Michigan Golf Course and an opportunity for our guests to experience this gorgeous setting for their future events.
Our delicious breakfast was provided by M|Catering. Over 100 attendees started the morning off right with smoked salmon, vegetarian breakfast burritos, and vegan tofu scramble. And there were two new desserts to try—mini banana caramel pudding and mini vegan éclair trifle.
To set the agenda, attendees voted in advance as to our Facts & Snacks topics:
Alternatives to Helium Balloons: Tips from Kayla Marut, CES
Sustainability panel discussion – Panelists included Keith Soster, M|Dining; Kelly Jones, Graham Institute on Sustainability; Claire Leigh-Monstevens, CES.
How to Make Events More Inclusive: Tips from Kayla Marut, CES
Event Back-up Planning – Presenters Katherine Hepner, Athletics; Jane Lloyd, CES; Jennifer Pomerantz, CES.
Take Aways: Here's a complete summary of the great questions we get at Facts & Snacks.
---
Register for the November Facts and Snacks

November 13, 2019
3:00 – 4:30 pm Trotter Multicultural Center – Multipurpose Room
Main Topic: Alcohol 101 – Hosting Events with Alcohol on Campus
---
How to Host a Sustainable Event
There was plenty of discussion around this topic at the August Facts & Snacks meeting. We've distilled the highlights into this helpful tip sheet!
Use e-invitations with online RSVPs.
Instead of plastic giveaways, provide a coupon for a local business or make a donation to a local charity or scholarship fund. Or choose a giveaway that's earth friendly or made from recycled materials. And DO use a local supplier to reduce shipping emissions.
Use paper name tags and collect them for recycling at the end of the event.
Email your agenda (and handouts, if possible) in advance and let guests know you won't be printing copies. Or let them know where they can find electronic versions of your presentations.
Choose a caterer who donates leftovers to local food pantries (like M|Catering!)
Plan a menu with plenty of plant-rich, in-season choices to help reduce your carbon footprint.
Host a zero-waste event with reusable china and glassware (free of charge at the Michigan Union, Michigan League or Pierpont Commons).
Take advantage of FREE compostable cups, plates, utensils, collection bins and more, available through Planet Blue.
For an off-campus event, you can purchase compostable supplies from companies like BBC Distributing.
Look into your venue's recycling rules. For example, M|Catering composts all pre- and post-consumer food waste for on-campus events.
Make a sustainability splash. Promote your sustainable event with a one-minute video on U-M's campus sustainability goals. Tell your guests where leftovers and food waste are going.
Have your MC comment on all the sustainable efforts related to the event. Or include it in your event materials. Post signs at registration stations, buffet lines, etc. Talk it up on your invitations.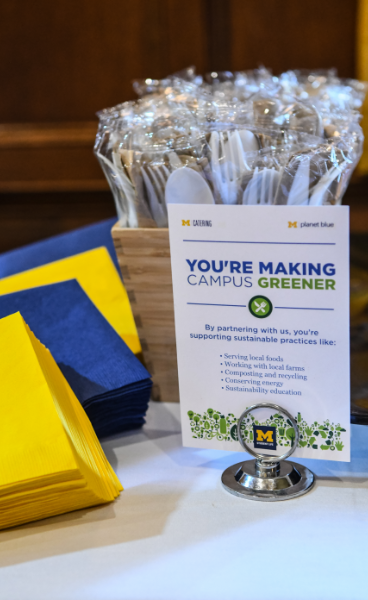 ---
Featured Recipe
Sweet and Savory: Rainbow Swiss Chard with Roasted Michigan Apples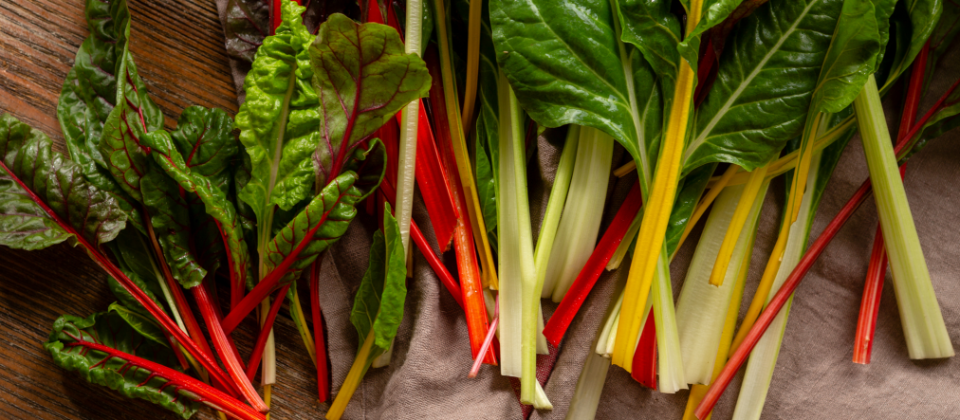 This recipe combines two local fall fruits and veggies for a savory side dish with a little spice and a little sweetness. It's delish AND it's available as one of 16 scrumptiously different fall side dishes now featured on the M|Catering menu.
Prep Time: 30 minutes
Servings: 4
Serving Size: 1/2 cup
Ingredients
3 cups Swiss chard, stems removed and cut into 1" squares
3/4 cup Michigan apples, peeled, cored and sliced into
1/2" wedges 1/4 cup Michigan apple cider
1/4 cup red onion, 1/4" slice
1 teaspoon salt 1/8 teaspoon white pepper
1/4 teaspoon ground nutmeg
1 tablespoon brown sugar
2 tablespoons olive oil, divided
Directions
Preheat over to 350 degrees.
Toss apples with the brown sugar, 1 tablespoon of the olive oil and nutmeg. Place on a parchment lined sheet pan and roast at 350 degrees for about 30 minutes or until tender. Remove from the oven and allow to rest.
Place a sauté pan on medium heat and add the remaining 1 tablespoon of oil. Sauté the onion and Swiss chard for two minutes, stirring intermittently. Add the apple cider and a touch of salt. Continue cooking until liquid is reduced by ¾.
Add the roasted apples to the Swiss chard and onions, toss together and taste for seasoning.
Serve as a delicious side with your favorite fall entrée.
Want more great tips, tricks and inside information from Conference and Event Services? Visit our newsletter archive!