U-M Commencement Brunch 2019
Celebrate your graduation on campus at the Fireside Café on North Campus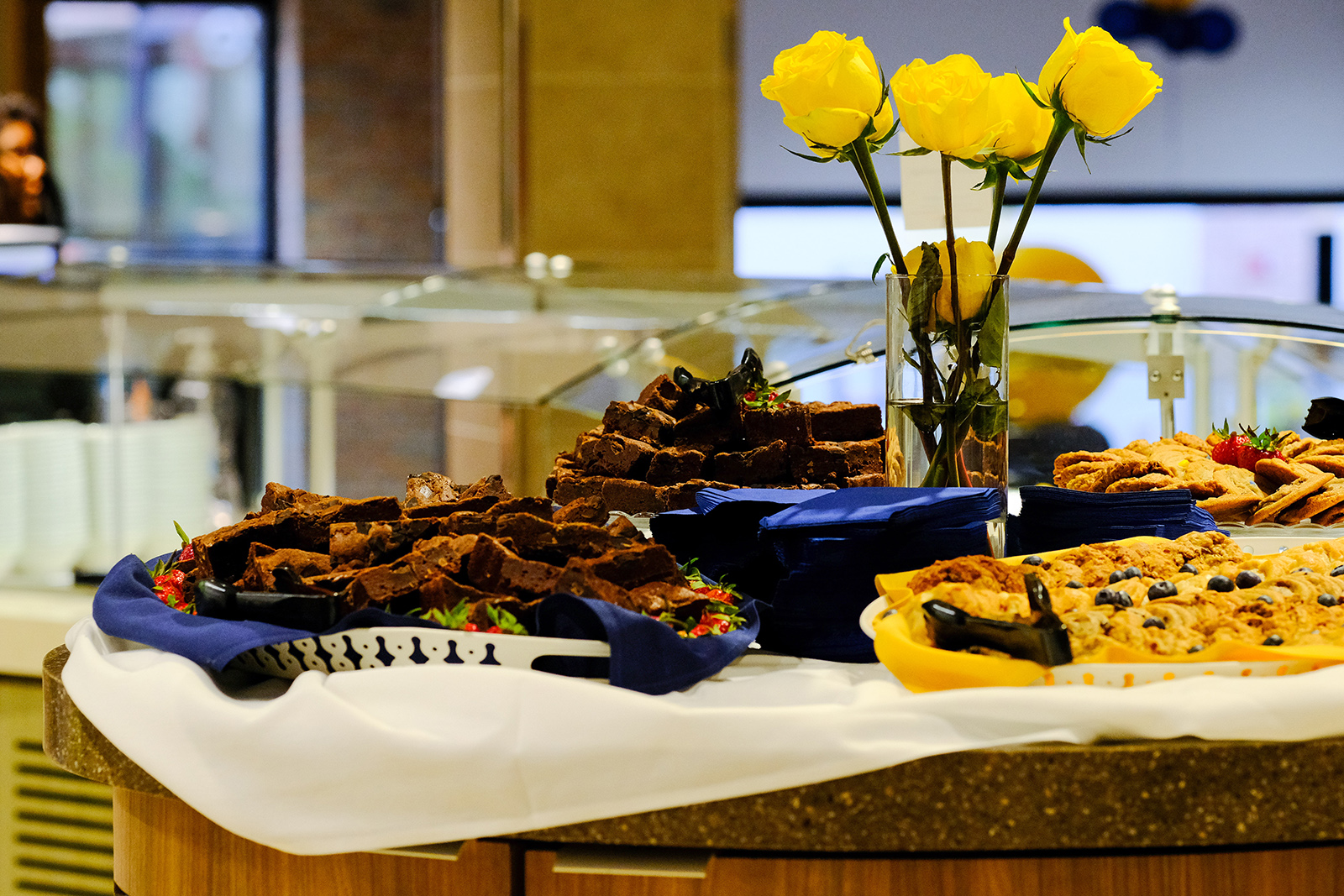 Commencement Day Buffet at Fireside Café
Saturday, May 4, 2019
Fireside Café, Pierpont Commons North Campus
Immediately following Spring Commencement
This relaxed-style buffet brunch includes breakfast and lunch items, and desserts. Seating is limited, so please reserve early.
Prices for the buffet are $21 per adult, $11 per child under 12, plus tax. Children 5 and under are free. Advance, pre-paid reservations are required.
Menu
Rolls and Butter
Fresh Salad and Fruit
Scrambled Eggs
French Toast
Homestyle Breakfast Potatoes
Pork Sausage Links
Halal Chicken Parmesan
Teriyaki Salmon served with Mango Salsa
Pesto Fettuccine
Roasted Vegetables
Assorted Cookies, Brownies and Vegan Raspberry Bars
Orange Juice
Coffee, Decaf, Hot Water with Teas
Iced Water
For more information, please contact Conference & Event Services at (734) 764-2000. Our office hours are 9:00 am to 5:00 pm., Monday through Friday.
¹ Major credit cards are accepted. Cancellations received by May 1, 2019 are fully refundable.
---
Class of '19 Michigan Memories Commencement Exhibit
1st Floor, Michigan League
April 1 – May 10, 2019
This free exhibit will bring back the memories from your years at Michigan. The display features headlines from the Michigan Daily. Free and open to graduating seniors, their families and guests. Reservations are not required.
Questions?
Call (734) 763-5900 or email uminvolvement@umich.edu
Other Commencement Celebration Opportunities
Interested in planning a special graduation reception, lunch or dinner? Host your gala at the Michigan League, Michigan Union or Pierpont Commons! If you prefer another location, M|Catering can deliver a feast to the Ann Arbor location of your choice. Choose from anything on our full catering menu, or tell us what you have in mind for your soirée.
For more information, please contact us at (734) 764-2000. Valid May 2 –6, 2019.